Join Thor, Bear dog, and me as we continue to visit the highlights in our new "neighborhood" while we progress toward building a waterfront home.
NOTE: People have been asking to follow our progress as Thor and I pursue our quest for our dream home with sunsets over the Salish Sea. So starting with my post of 5/21/22, we set out.
South of our building site on Semiahmoo Drive, the longtime resort beach of Birch Bay draws sun-and-sea-seekers to the only shallow, sandy saltwater bay in the county (other than polluted Blaine Bay). Thor and I hadn't spent much time here over the years, other than an occasional drive to catch the warming waters at high tide on a sunny afternoon for a swim. But I have fond memories of many family visits here as I was growing up 4th-generation in Whatcom County. It's an old-fashioned sort of place, reflected in the retro sign above. And, yes, we used to harvest delicious Dungeness crabs by wading in the eelgrass and scooping them up. They're not so plentiful now.
Let's start the tour from the south end, at Birch Bay State Park with its pebble beach and colder, clearer waters for swimming. (I use a neoprene top here for my brisk swims.) Bear dog doesn't swim — he got very upset and barked from the beach during my first swim after we adopted him — but he loves to wade and get wet. He has a summer belly/leg trim, but his longer double layers of back fur actually insulate him from the heat. (Everyone asks if he's too hot, but he likes to bask in the sun.)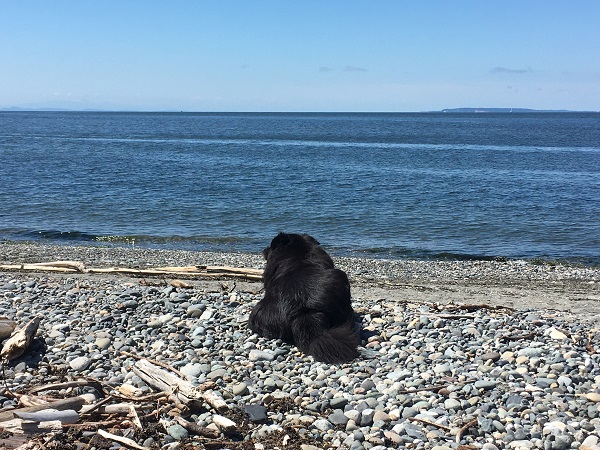 Looking north over the bay: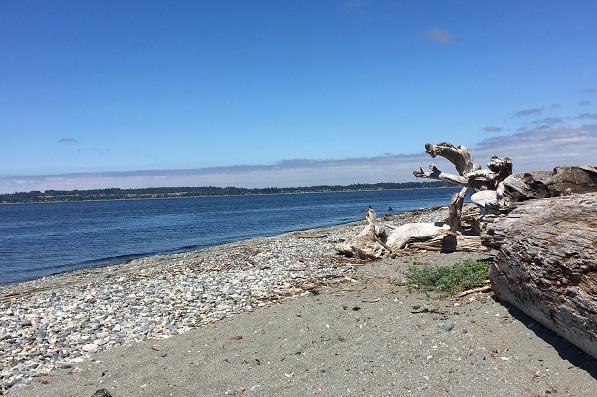 I'm posting my complete blog entries on my own author website at www.sarastamey.com, where you can finish this episode and enjoy all the accompanying photos. You can also view the complete Italy series there, as well as many other Rambles. Please continue reading by clicking on the link below, then you can return here (use "go back" arrow above) to comment, ask questions, or join a conversation. We love your responses!
https://sarastamey.com/the-rambling-writers-quest-for-home-part-5-birch-bay/
*****
You will find The Rambling Writer's blog posts here every Saturday. Sara's latest novel from Book View Café is Pause, a First Place winner of the Chanticleer Somerset Award and a Pulpwood Queens International Book Club selection. "A must-read novel about friendship, love, and killer hot flashes." (Mindy Klasky).  Sign up for her quarterly email newsletter at www.sarastamey.com