A year after we made an offer on this high-bank waterfront lot on the Salish Sea, we have survived a LOT of bureaucracy and started building our new home.
NOTE: People have been asking to follow our progress as Thor and I pursue our quest for our dream home with sunsets over the Salish Sea. So starting with my post of 5/21/22, we set out.
If you've followed this blog series (last post was July 29, as there wasn't much to talk about except one more and one more hurdle to jump before finally getting our permit.) After a last-minute question from Fish & Wildlife re the offshore herring spawning area, we got the building permit!!!! Our builder had kept moving the subcontractors' schedules out farther and farther, while we got closer and closer to the expected fall rain deluges that we were trying to prepare for with drain installation that required the permit. Amazingly, everyone was available and ready to start work. Hurrah!!!
But before we start, a reminder of the waterfront native-plant buffer we are required to maintain, after the former owner clearcut the lot without a permit. In early summer, it looked like this, and we had help whacking weeds to let the new desired plants grow. Bear dog helped guard the perimeter: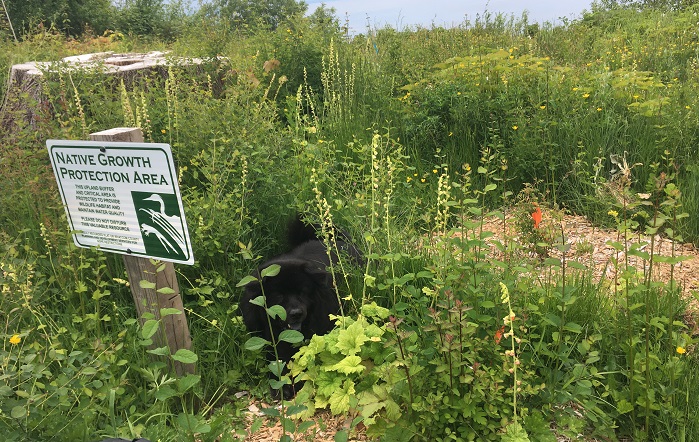 I'm posting my complete blog entries on my own author website at www.sarastamey.com, where you can finish this episode and enjoy all the accompanying photos. You can also view the complete Italy series there, as well as many other Rambles. Please continue reading by clicking on the link below, then you can return here (use "go back" arrow above) to comment, ask questions, or join a conversation. We love your responses!
https://sarastamey.com/the-rambling-writers-quest-for-home-part-6-we-start-building/
*****
You will find The Rambling Writer's blog posts here every Saturday. Sara's latest novel from Book View Café is Pause, a First Place winner of the Chanticleer Somerset Award and a Pulpwood Queens International Book Club selection. "A must-read novel about friendship, love, and killer hot flashes." (Mindy Klasky).  Sign up for her quarterly email newsletter at www.sarastamey.com