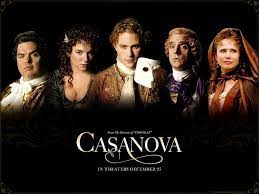 A brief review of the 2005 film "Casanova," a delightful romp starring Heath Ledger
Your Virtual Italy Vacation will resume next week, but since in the last episode we toured The Doge's Palace and the Venice prison where Giacomo Casanova was incarcerated, I thought you might enjoy a peek at this lighthearted film. After refreshing my memory about the amazing escapades of the real Casanova, I convinced Thor that we needed to watch the film, directed by Lasse Hallstrom. I had seen it when it was originally released in 2005, but wasn't sure it would stand the test of time.
Success! Even Thor (who resists historical romantic comedy, but owed me a movie pick), was laughing a lot.
It's an affectionate nod to bedroom farces and Shakespearean comedies, complete with masks, double and triple identities, bufoonerie, swordfights, and a plucky young woman who disguises herself as a man to challenge the male-dominated culture. Heath Ledger, who died much too young, is charming (and of course swooningly handsome) as the infamous seducer of women (including lusty nuns), adventurer, and challenger of the Church norms. In the hilarious opening scenes, he bounces from a pastiche of ardent lovers, to his latest escapade as he leaps from the bed of a Novice to be pursued by Inquisition enforcers across Venice's rooftops. His patron The Doge covers for him one more time, but warns him that he must marry soon or face the wrath of the Inquisition for licentiousness.
I'm posting my complete blog entries on my own author website at www.sarastamey.com, where you can finish this episode and enjoy all the accompanying photos. You can also view the complete Italy series there, as well as many other Rambles. Please continue reading by clicking on the link below, then you can return here (use "go back" arrow above) to comment, ask questions, or join a conversation. We love your responses!
https://sarastamey.com/the-rambling-writers-italy-part-25-film-review-of-casanova/
*****
You will find The Rambling Writer's blog posts here every Saturday. Sara's latest novel from Book
View Cafe is Pause, a First Place winner of the Chanticleer Somerset Award and a Pulpwood Queens International Book Club selection. "A must-read novel about friendship, love, and killer hot flashes." (Mindy Klasky).  Sign up for her quarterly email newsletter at www.sarastamey.com