My featured week with the Pulpwood Queens ends with some advice about promoting your novels.
NOTE: This series started on Dec. 31. I'm honored to have my seriocomic novel of midlife reinvention PAUSE, published by Book View Cafe, selected by The International Pulpwood Queens Book Club as a December 2022 title.  http://www.thepulpwoodqueens.com  During my featured week in late December, I was asked to post every day about my novels and writing life, so am reproducing them in this series. All of my novels I discuss are available at https://www.bookviewcafe.com
It's Day 7 of my featured week with THE OFFICIAL International Pulpwood Queen and Timber Guy Book Club and my club selection PAUSE. I am honored that my novel was selected, and I've enjoyed hearing from you all. Our Zoom conversation with Kathy L. Murphy was warm and funny, and I appreciate those who attended and took part, taking time from this busy holiday weekend. Wishing a wonderful new year to everyone!
I'll just add a few words about the topic of book promotion, even while confessing that it's my weak point in the writing/publishing game. The big traditional publishers used to buy ads and send around advance copies, as well as promotional mailings and bookstore reps, but most of that has disappeared or is sharply reduced. It's really in the author's lap (or laptop) now. The internet does offer a lot of ways to get the word out, and emailing review copies is certainly cheaper than the postal service. The trouble is deciding what is worth putting time and dollars into.
Book awards can be costly, but worth trying for a few. I've received some terrific support and awards from @Chanticleer Book Reviews (see top photo of Pulpwood Queens founder Kathy L. Murphy and me at a Chanticleer Conference that happened to be on May Day), as well as Hollywood Book Festival and Foreword Reviews. I haven't pursued this area as much as many of my fellow Pulpwood authors, who are stacking up amazing awards, hurrah! Poke around online for awards offered in your genre and give it a try.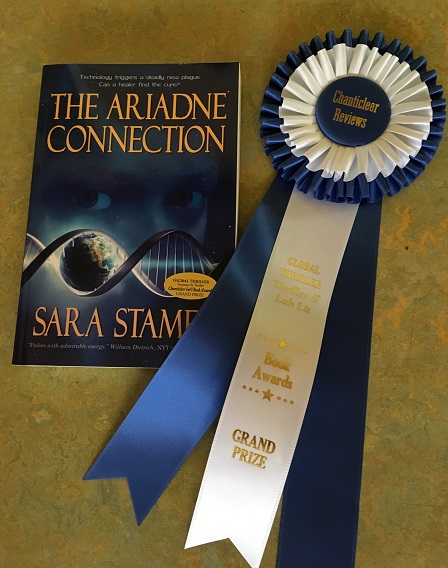 I'm posting my complete blog entries on my author website at www.sarastamey.com, where you can finish this episode and enjoy all the accompanying photos. Please continue reading by clicking on the link below, then you can return here (use "go back" arrow above) to comment, ask questions, or join a conversation. We love your responses!
https://sarastamey.com/the-rambling-writers-featured-week-with-the-international-pulpwood-queens-book-club-part-7/
*****
You will find The Rambling Writer's blog posts here every Saturday. Sara's latest novel from Book View Café is Pause, a First Place winner of the Chanticleer Somerset Award and an International Pulpwood Queens Book Club selection. "A must-read novel about friendship, love, and killer hot flashes." (Mindy Klasky).  Sign up for her quarterly email newsletter at www.sarastamey.com