In the midst of a lot of "Life happens," Thor and I seek moments of serenity in Nature.
After the couple years of pandemic, we're all feeling stressed, but Thor and I thought things were settling down last fall when we decided to go for our dream of building a house on a high waterfront bank where we could watch sunsets over the Salish Sea. Then the last six months have spawned a whole new crop of hurdles to overcome, with governmental regulations breeding like Tribbles with delay after delay and study after study in order to get a building permit; sorting, packing, and discarding 22 years of Stuff in our current home and sprucing it up to get it ready to sell (including sorting all our teaching materials and my writing office); and 4 unexpected surgeries for Thor and me. The latest hurdle was miscommunication and delays before Thor's orthopedic doc said, "Cancel your vacation (our long-delayed return to our Caribbean snorkeling paradise) because you need the shoulder replacement surgery ASAP." (The previous "cleanup" surgery this winter had failed, and you don't want to hear the details…) We are normally very active hikers, so we decided we needed to keep finding our connections to nurturing Nature with what walks we could manage.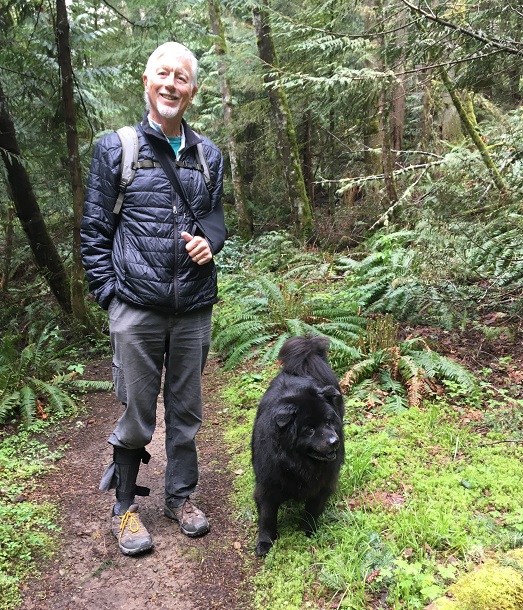 Just being on a forest trail with Bear dog is calming, as we breathe in the clean, moist air and remember to let Nature embrace us and feed our souls. I know that we are very lucky to live close to forest trails and the mountains, and I hope that everyone can find a way to at least walk in a park as often as possible. Sometimes our modern urban lives seem to conspire to keep us disconnected from the natural world, and we can't forget that we're part of it.
Anyway, between a myriad of tasks related to moving/building plans, Thor, Bear dog, and I worked in as many outings as we could. A walk along the nearby Nooksack River is always soothing (also top photo):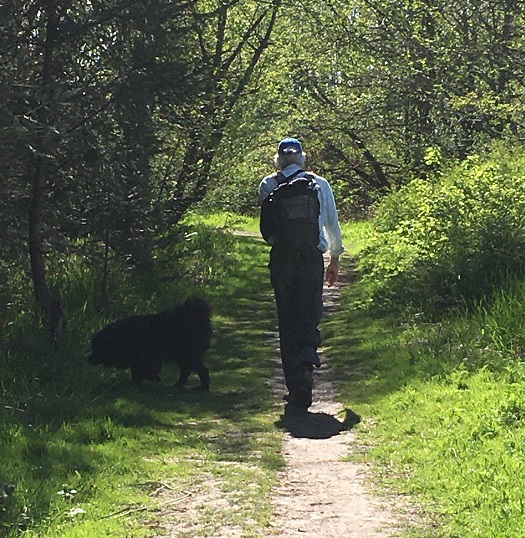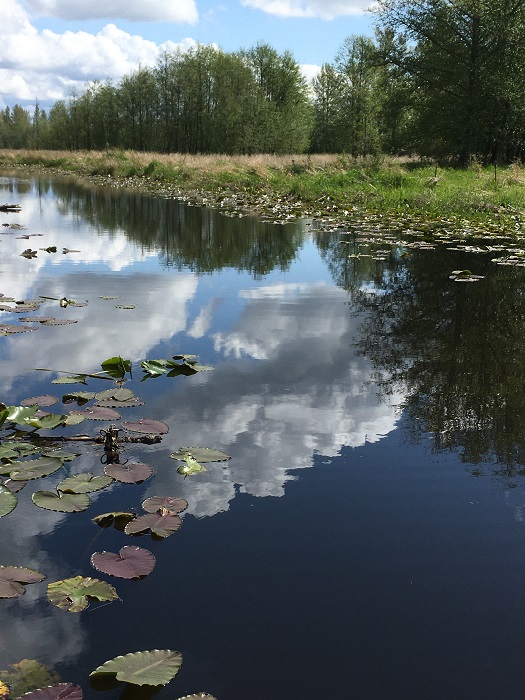 I'm posting my complete blog entries on my own author website at www.sarastamey.com, where you can finish this episode and enjoy all the accompanying photos. You can also view the complete Italy series there, as well as many other Rambles. Please continue reading by clicking on the link below, then you can return here (use "go back" arrow above) to comment, ask questions, or join a conversation. We love your responses!
https://sarastamey.com/the-rambling-writer-serenity-in-nature/
*****
You will find The Rambling Writer's blog posts here every Saturday. Sara's latest novel from Book View Café is Pause, a First Place winner of the Chanticleer Somerset Award and a Pulpwood Queens International Book Club selection. "A must-read novel about friendship, love, and killer hot flashes." (Mindy Klasky).  The novel also features Nature's healing power. Sign up for her quarterly email newsletter at www.sarastamey.com