Join me for more about my novels and writing life!
NOTE: This series started on Dec. 31. I'm honored to have my seriocomic novel of midlife reinvention PAUSE, published by Book View Cafe, selected by The International Pulpwood Queens Book Club as a December 2022 title.  http://www.thepulpwoodqueens.com  During my featured week in late December, I was asked to post every day about my novels and writing life, so am reproducing them in this series. All of my novels I discuss are available at  https://www.bookviewcafe.com
Welcome back to my stories about my writing and life, with my December Pulpwood novel selection PAUSE.  It's my latest novel, after publishing in different genres that usually reflected my love of adventure and travel. PAUSE is more personal, as I drew on my own midlife experiences and journal to write the seriocomic journey of Lindsey Friedland through her challenges in reclaiming herself amid "epic hot flashes." Like I did, Lindsey learns to laugh at the absurdities she encounters – or creates — along the way.
Like Lindsey, I'm a cancer survivor (two different types, though not breast cancer – that was my sister); divorced from an abuser (hurrah, 20 years ago for me and happily remarried now, but a recent divorce for Lindsey); and we've both been the lucky recipients of the "triple whammy" of extreme menopause hot flashes, vertigo, and nausea. We both found solutions, so read on in the novel….
Lindsey is juggling issues with her extended family as well, which again echo some of my own. I wrote early drafts of the novel around 2005, when it is set, but waited to consider publishing it until my mother passed away. She would have been upset to see an abusive father depicted, who is much like my own father (now deceased as well). Like Lindsey, I spent years, along with my sisters, in trying to protect Mom from Dad's rages and abuse, but our family motto from my childhood on could have been, "We don't talk about it." I dearly loved my sweet Mom Helen (photo with me in the tulip fields).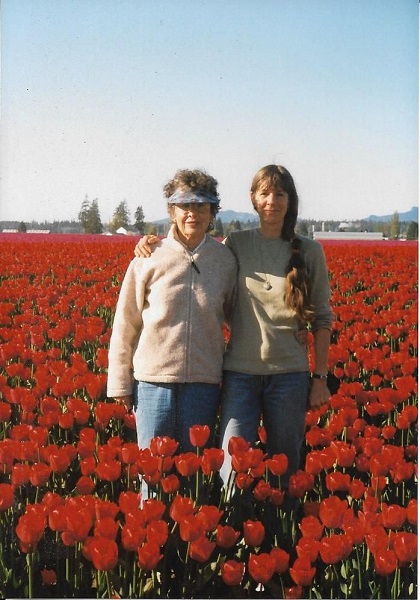 But when the Me Too movement gathered momentum, I decided it was time to allow at least my fictional characters free voice. I could have written a nonfiction memoir, but fiction allows me more freedom to create, and indeed, the characters and most of the episodes in PAUSE are invented.
I will reveal that all the absurd "blind dates" that Lindsey embarks on post-divorce are almost exactly as they happened to me. (I've always been a bit clueless about social protocols and had never dated until my mid-50s.) That includes the flashback hippie "mud meditation!" Yes, Lindsey and I are both old hippies.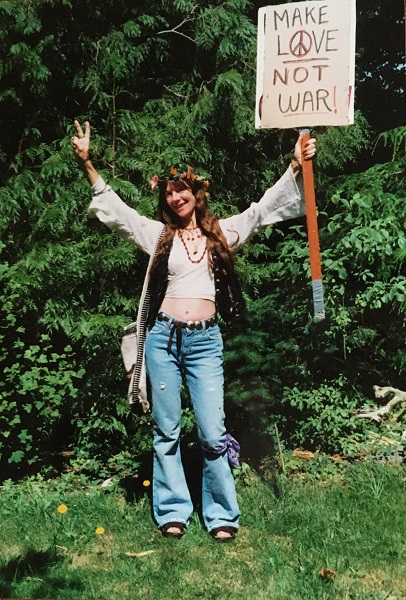 I'm posting my complete blog entries on my author website at www.sarastamey.com, where you can finish this episode and enjoy all the accompanying photos. Please continue reading by clicking on the link below, then you can return here (use "go back" arrow above) to comment, ask questions, or join a conversation. We love your responses!
https://sarastamey.com/the-rambling-writers-featured-week-with-the-international-pulpwood-queens-book-club-day-2/
*****
You will find The Rambling Writer's blog posts here every Saturday. Sara's latest novel from Book View Café is Pause, a First Place winner of the Chanticleer Somerset Award and an International Pulpwood Queens Book Club selection. "A must-read novel about friendship, love, and killer hot flashes." (Mindy Klasky).  Sign up for her quarterly email newsletter at www.sarastamey.com