Join Thor and me as we snorkel in one of our favorite spots in the world — the "Blue Lagoon" in the marine preserve near remote Xcalak, Mexico. Another Geezer Adventure.
NOTE: This blog series started Nov. 26 as we returned once more to Playa Sonrisa (Beach of Smiles), our special place not only because we celebrated our Luna de Miel (Honeymoon) there, but because it's remote from tourist frenzy. There are miles of nearly deserted beach where we can just step over the sand and swim out to the reef for snorkeling among colorful fish.
Since Thor and I are both dealing with shoulder/neck issues and can't use our arms much for our usual swimming, snorkeling in the calm, shallow water of the Blue Lagoon (our name for this spot) was ideal. We could just lie in the warm sea and kick with our fins to explore the coral outcrops and reef. And this time of year, the sea was very calm. Below is elkhorn coral: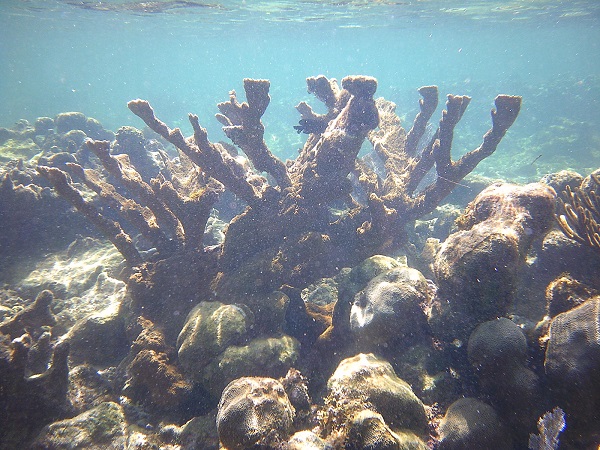 Juvenile French Angelfish:
One of our favorites, the trunkfish. They have boxlike bodies (the Caribbean name is "box fish") and move along with those little side fins whirring away.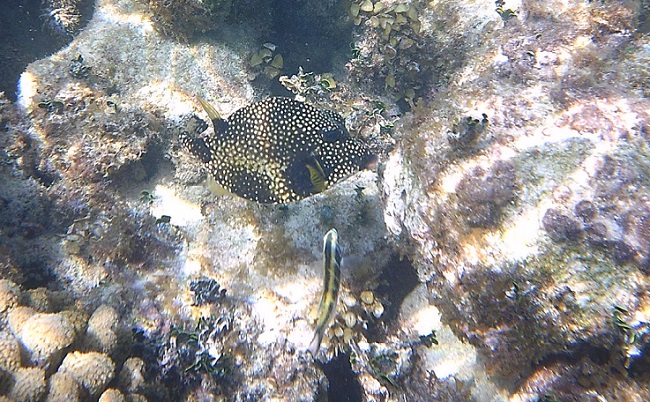 Fish videos coming up! I'm posting my complete blog entries on my own author website at www.sarastamey.com, where you can finish this episode and enjoy all the accompanying photos. You can also view the complete Italy series there, as well as many other Rambles. Please continue reading by clicking on the link below, then you can return here (use "go back" arrow above) to comment, ask questions, or join a conversation. We love your responses!
https://sarastamey.com/the-rambling-writer-returns-to-playa-sonrisa-part-2/
*****
You will find The Rambling Writer's blog posts here every Saturday. Sara's latest novel from Book View Café is Pause, a First Place winner of the Chanticleer Somerset Award and a Pulpwood Queens International Book Club selection. "A must-read novel about friendship, love, and killer hot flashes." (Mindy Klasky).  Sign up for her quarterly email newsletter at www.sarastamey.com