Join Thor, Bear dog, and me as we log another Geezer Adventure on the Chanterelle Trail above Lake Whatcom.
This week we were all set to tackle another challenging hike to the glacier near the peak of Mt. Shuksan, and we figured we'd just go as far as we felt able. A friend had just been up there and reported clear skies at the top of the road, but by the time we headed up, smoke from the wildfires only 5-15 miles from the mountain (on the east side) were pouring over the passes toward the west and choking out the views as well as ourselves. Here's the dim outline of Mt. Shuksan: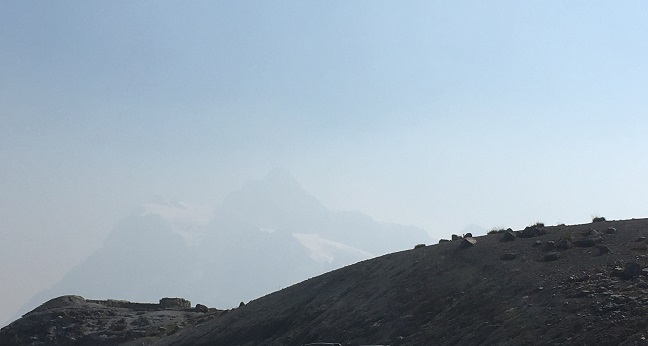 Here's how the mountain looked a few weeks ago on a different hike: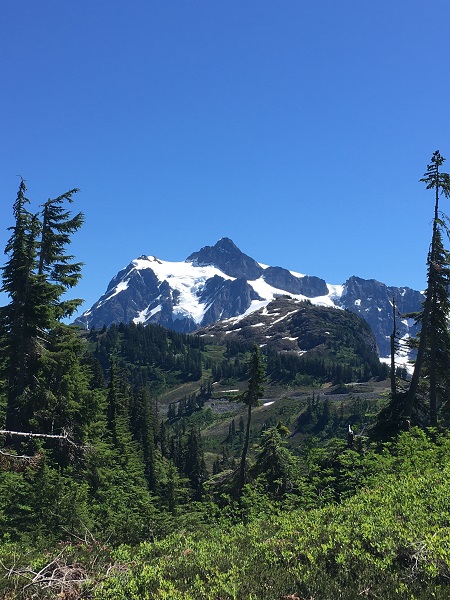 We knew the smoke was headed toward Bellingham by that night or the next day, so we drove back down to beat it by hiking the Chanterelle Trail on the east end of Lake Whatcom. It climbs 1000 feet from the lake to the lookout, and it's a pleasant route with fairly new switchback trails up the forested hillside. (The old route on the logging road was very steep.)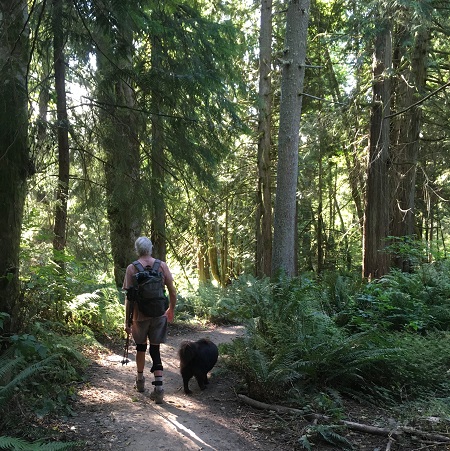 I'm posting my complete blog entries on my author website at www.sarastamey.com, where you can finish this episode and enjoy all the accompanying photos. Please continue reading by clicking on the link below, then you can return here (use "go back" arrow above) to comment, ask questions, or join a conversation. We love your responses!
https://sarastamey.com/the-rambling-writer-hikes-the-chanterelle-trail/
*****
You will find The Rambling Writer's blog posts here every Saturday. Sara's latest novel from Book View Café is Pause, a First Place winner of the Chanticleer Somerset Award and an International Pulpwood Queens Book Club selection. "A must-read novel about friendship, love, and killer hot flashes." (Mindy Klasky).  Sign up for her quarterly email newsletter at www.sarastamey.com