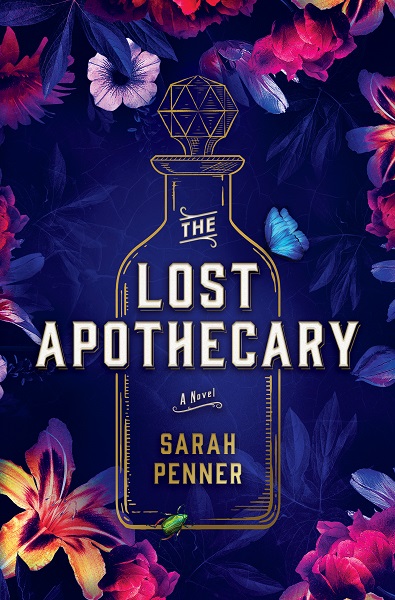 Lose yourself in the spell of history's secrets and herbal lore in Sarah Penner's fascinating novel.
I've been reading several books selected by the International Pulpwood Queens & Timber Guys Book Club, now that my novel Pause has been chosen as a 2022 title. I look forward to "meeting" Sarah Penner next week via the weekly Zoom get-togethers hosted by Kathy L. Murphy for PQTG authors and readers. A New York Times bestseller, the novel has garnered terrific reviews.
I'm always intrigued by stories about traditional women's herbal lore – cures and poisons in tinctures made from plants. The herbalists are often suspected of being witches or otherwise subversive, which naturally heightens the tension and raises the stakes. In this case, the air of mystery surrounding the history is literal. Rotating through three different point-of-view characters, the story immediately pulled me into the past with a brief and startling scene from Nella, the apothecary herbalist, in 1791 London. Nella is preparing to make a poison for an unhappy wife to rid herself of an unfaithful husband, and this is not the first such tincture Nella has made.
We then jump to present-day London and shellshocked 30ish American Caroline, who had booked a celebration of her 10-year anniversary, only to discover her husband's infidelity. She flees to London by herself to figure out next steps, and stumbles upon a group "mudlarking" on the banks of the River Thames. She finds an antique blue-glass vial in the mud, and embarks on a quest to learns its secrets.
Penner deftly brings to life the city of London past and present, as well as the conflicted inner lives of her three main characters (including a young servant girl, Eliza, who stumbles into Nella's life and triggers dangerous crises). I initially thought that there was no way I would sympathize with a poisoner, but gradually I began to understand Nella's path and feel pity for her, caught in a life of pain and guilt combined with a strange pride in empowering victimized women through murder. Caroline's motives were easier to understand, as she gathers clues to the historical mystery and reclaims her academic training for a possible new life direction.
Clever plotting with cliffhangers propels the story into danger both past and present, with a satisfying finale (though appropriately a bit mysterious regarding Nella).
Like Caroline and her fascination with the mundane details of past centuries, I most enjoyed all the tidbits of herbal lore and tinctures, the descriptions of crooked alleyways and crowded streets past and present, the household implements of the 18th century, and more. Penner did her research, and it pays off. She even offers recipes for traditional botanical tinctures, promising us that none of them are poisonous….
I especially got a kick out the concept of mudlarking. I wasn't aware that it was a "thing," but that's what I was doing a few years ago at Lyme Regis, poking around the beach below the crumbling high bank above the sea.
I also found a mysterious, small, pale-blue bottle (it's boxed up for moving, so no photo), and wondered what story it could tell. Brava to Sarah Penner for writing hers!
*****
You will find The Rambling Writer's blog posts here every Saturday. Sara's latest novel from Book View Café is Pause, a First Place winner of the Chanticleer Somerset Award and an International Pulpwood Queens Book Club selection. "A must-read novel about friendship, love, and killer hot flashes." (Mindy Klasky).  Sign up for her quarterly email newsletter at www.sarastamey.com