Fasten your seat belts for a flight back in time and place to the ruins of ancient Cretan labyrinths as I recall my first trip to the Greek islands and camping in the ruins of Minoan cities.
You can hardly escape the concept of the labyrinth on Crete (the motif of the ancient coin above), and most of the palace ruins have a mazelike structure. The famous myth of Ariadne and the Minotaur took place in the Palace of Knossos, where King Minos (Ariadne's father) kept the bull-headed monster. Ariadne, most likely a priestess of the labyrinth, held the key to its twists and turns. The footings and reconstructions at Knossos are the most famous of the palace/ritual sites, but others such as Phaestos have a similar structure. We'll visit both sites in upcoming blog posts, but for now a glimpse of Phaestos:
I often find inspiration in wild places, and where I felt the deep pull of the labyrinth most profoundly on my first trip was on the relatively deserted west coast of the island, at the site of the ancient city of Falassarna. Again, forgive the poor quality of the old photos….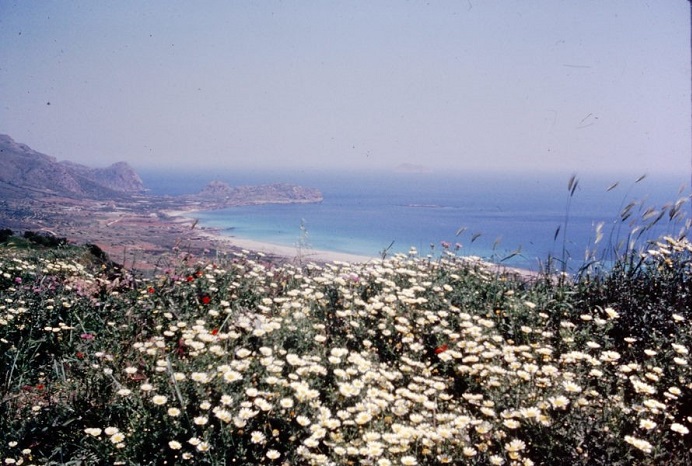 I'm posting my complete blog entries on my own author website at www.sarastamey.com, where you can finish this episode and enjoy all the accompanying photos. You can also view the complete Italy series there, as well as many other Rambles. Please continue reading by clicking on the link below, then you can return here (use "go back" arrow above) to comment, ask questions, or join a conversation. We love your responses!
https://sarastamey.com/the-rambling-writer-returns-to-crete-part-6-falassarna-whispers/
You will find The Rambling Writer's blog posts here every Saturday. Sara's Greece-inspired novel from Book View Cafe is available in print and ebook: The Ariadne Connection.  It's a near-future thriller set in the Greek islands. "Technology triggers a deadly new plague. Can a healer find the cure?"  The novel has received the Chanticleer Global Thriller Grand Prize and the Cygnus Award for Speculative Fiction.