Our quest for home continues as Thor and I tackle the tangle of county requirements to stabilize the oceanfront bluff on our building site.
NOTE: People have been asking to follow our progress as Thor and I pursue our quest for our dream home with sunsets over the Salish Sea. So starting with my post of 5/21/22, we set out.
Progress has been proceeding at a snail's pace since my last installment of 5/28. After our 4-month ordeal with the DNR to secure our 50-year lease of the property, we now have faced a seemingly endless series of bureaucratic hoops to jump through before the county and state regulations will allow our builder to submit the long-finished building plans for our dream home. Meanwhile, we take lots of picnics out to the land to enjoy the soothing sound of waves on the pebble shore and soak up the view of sea and islands.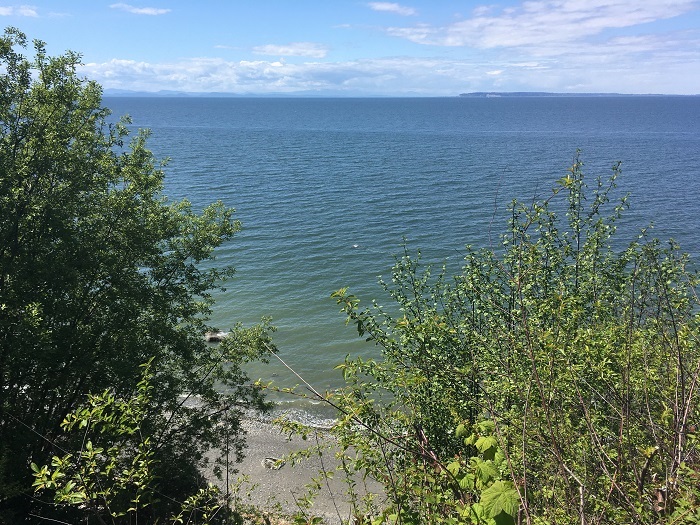 I'm posting my complete blog entries on my own author website at www.sarastamey.com, where you can finish this episode and enjoy all the accompanying photos. You can also view the complete Italy series there, as well as many other Rambles. Please continue reading by clicking on the link below, then you can return here (use "go back" arrow above) to comment, ask questions, or join a conversation. We love your responses!
https://sarastamey.com/the-rambling-writers-quest-for-home-part-3-planting-mitigation-and-stabilizing-the-bluff/
*****
You will find The Rambling Writer's blog posts here every Saturday. Sara's latest novel from Book View Café is Pause, a First Place winner of the Chanticleer Somerset Award and a Pulpwood Queens International Book Club selection. "A must-read novel about friendship, love, and killer hot flashes." (Mindy Klasky).  Sign up for her quarterly email newsletter at www.sarastamey.com