Thor, Bear dog, Turtle cat, and I have survived the chaotic second phase of moving into our new home, and are settling into Being Here Now!
NOTE: People have been asking to follow our progress as Thor and I pursue our quest for our dream home with sunsets over the Salish Sea. So starting with my post of 5/21/22, we set out.
After over a year in a small rental with minimal furniture and possessions, it was a shock when the big moving trucks arrived with everything we'd had in storage all that time. How could two humans, a dog, and a cat have SO MUCH STUFF?? A month later, we're still asking that question as we gradually unpack boxes, get rid of things (we thought we'd done a culling when moving out of our former house of 22 years), find new places for things, and start to establish routines. It is lovely to reacquaint ourselves with special artwork and mementos of our travels.
One of two trucks arrived: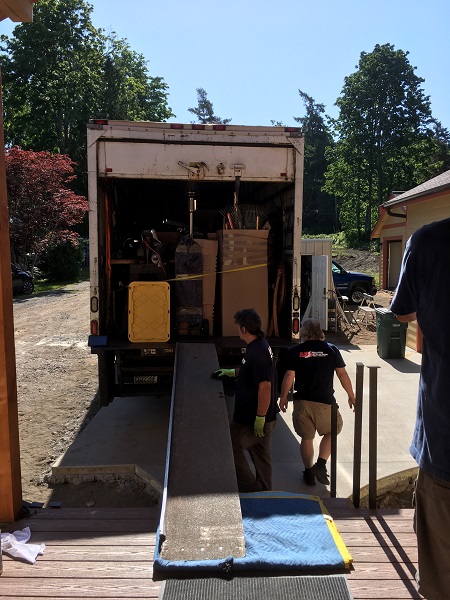 Bear dog quickly made friends with the four moving guys, who were funny and efficient.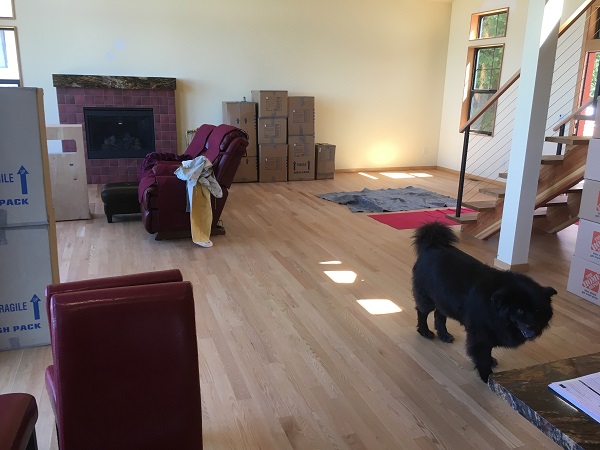 I'm posting my complete blog entries on my own author website at www.sarastamey.com, where you can finish this episode and enjoy all the accompanying photos. You can also view the complete Italy series there, as well as many other Rambles. Please continue reading by clicking on the link below, then you can return here (use "go back" arrow above) to comment, ask questions, or join a conversation. We love your responses!
https://sarastamey.com/the-rambling-writers-quest-for-home-part-20-settling-in/
*****
You will find The Rambling Writer's blog posts here every Saturday. Sara's latest novel from Book View Café is Pause, a First Place winner of the Chanticleer Somerset Award and an International Pulpwood Queens Book Club selection. "A must-read novel about friendship, love, and killer hot flashes." (Mindy Klasky).  Sign up for her quarterly email newsletter at www.sarastamey.com