The dream home for Thor and me continues to grow as we install more plants.
NOTE: People have been asking to follow our progress as Thor and I pursue our quest for our dream home with sunsets over the Salish Sea. So starting with my post of 5/21/22, we set out.
If you're following this series, you may recall Thor and I planting a row of arbor vitae as the start of a privacy hedge along our south boundary (with a cedar fence to be added after our swim spa gets moved in from storage).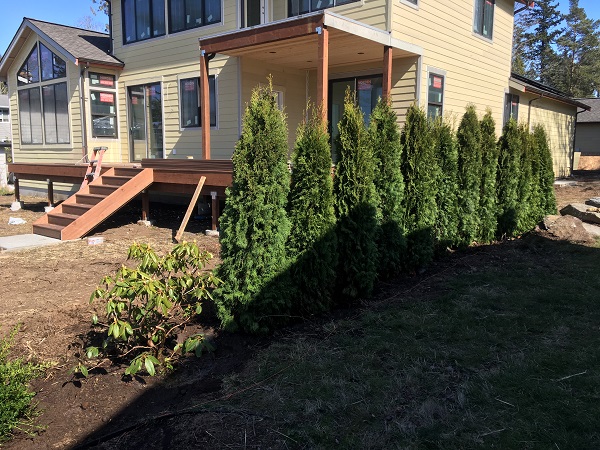 Thor even wrote this inspiring poem about our efforts:
Sara and Thor perform feats galore,
But none so bold and mighty
As that day in the lee of the Salish Sea
They planted the Arbor vitae.
Poor Thor felt rough, but Sara was tough,
and she said, "Pick up that pail!
"You've whined enough, so I'll be gruff,
"Today we will not fail!"
So we soldiered on, till we planted that lawn,
And Thor collapsed in a heap.
Sara said, "You look half-dead,
"But I guess you've earned your keep!"
(with Thor's apologies to Robert Service and real poets everywhere)
Since I've been suffering continued nerve pain from cervical stenosis — hurrah, I will finally get a second surgery soon to finally fix the issue the first surgeon didn't fully address! — I relied on Thor to provide most of the muscle while I pointed out what to do. His two new bionic shoulders are performing admirably.
Since we are required to maintain a Native Plant Protection Zone between our seaside bluff and our house in-progress (due to previous lot owner illegally clear-cutting), we wanted to plant an evergreen row along the boundary as a visual screen. The "buffer zone" hasn't looked very appealing in the winter, as the mostly deciduous bushes look dead brown then. But we have plans for our own mitigation of that issue (see below).
First stop was buying a lot of rhododendrons and a few other bushes, plus fencing materials. It all barely fit into a rental van: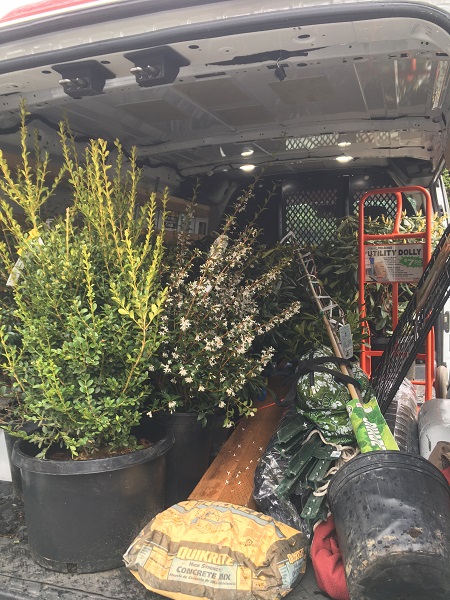 I'm posting my complete blog entries on my own author website at www.sarastamey.com, where you can finish this episode and enjoy all the accompanying photos. You can also view the complete Italy series there, as well as many other Rambles. Please continue reading by clicking on the link below, then you can return here (use "go back" arrow above) to comment, ask questions, or join a conversation. We love your responses!
https://sarastamey.com/the-rambling-writers-quest-for-home-part-16-more-plants/
*****
You will find The Rambling Writer's blog posts here every Saturday. Sara's latest novel from Book View Café is Pause, a First Place winner of the Chanticleer Somerset Award and an International Pulpwood Queens Book Club selection. "A must-read novel about friendship, love, and killer hot flashes." (Mindy Klasky).  Sign up for her quarterly email newsletter at www.sarastamey.com