Progress on the new house for Thor and me continues in what our builder calls the "impatient final pregnancy trimester" with interior detail work.
NOTE: People have been asking to follow our progress as Thor and I pursue our quest for our dream home with sunsets over the Salish Sea. So starting with my post of 5/21/22, we set out.
Meshak, our builder, is familiar with the urgency that grips his clients once the house is close to finished, and everything seems to take too long before "the baby" arrives: move-in date. We are close, maybe less than a month away, and Thor and I are champing at the bit to finally sleep in our new home beside the Salish Sea. It probably doesn't help that we are visiting the building site several times a week to see what's happening. Next week's blog post will cover some of the ways we're coping — starting to plant around the edges of the still-to-be-finished excavations and dirt rearranging. For now, a look inside at a surprising number of cabinets, drawers, and doors that all have to undergo finishing and mounting. We are excited about the beautiful wood grains:
Kitchen cabinets going in. Fridge will be on the left and range and hood in the middle on the back wall: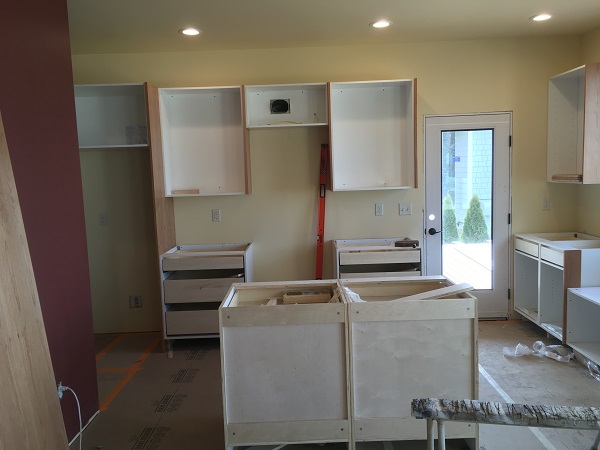 More of the beautiful alder wood on the cabinet sides: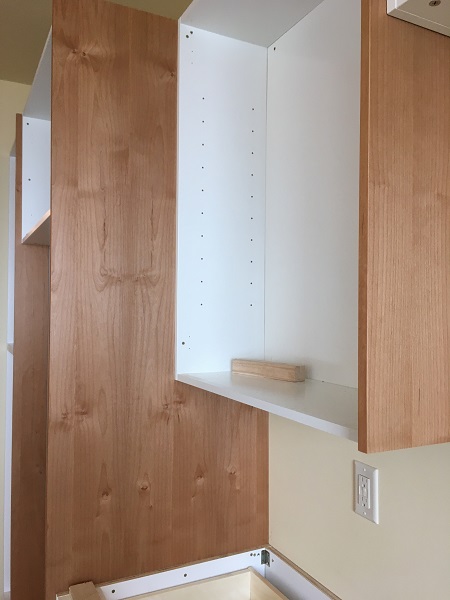 I'm posting my complete blog entries on my own author website at www.sarastamey.com, where you can finish this episode and enjoy all the accompanying photos. You can also view the complete Italy series there, as well as many other Rambles. Please continue reading by clicking on the link below, then you can return here (use "go back" arrow above) to comment, ask questions, or join a conversation. We love your responses!
https://sarastamey.com/the-rambling-writers-quest-for-home-part-15-cabinets-doors-and-more/
*****
You will find The Rambling Writer's blog posts here every Saturday. Sara's latest novel from Book View Café is Pause, a First Place winner of the Chanticleer Somerset Award and an International Pulpwood Queens Book Club selection. "A must-read novel about friendship, love, and killer hot flashes." (Mindy Klasky).  Sign up for her quarterly email newsletter at www.sarastamey.com