More dirt gets dished, literally, as excavations and installations continue at the new seaside home for Thor and me.
NOTE: People have been asking to follow our progress as Thor and I pursue our quest for our dream home with sunsets over the Salish Sea. So starting with my post of 5/21/22, we set out.
Not the most glamorous part of building a new house, but crucial: Meshak and his crew have been moving a lot of dirt again. Above, the septic mound near the road at the east end of the long lot, which sadly the previous lease holder clear cut. We have a big blank canvas to plant once final grading, contouring, and smoothing happens. Meanwhile, more digging has ensued, including ditches for power and water connections. Below, digging a trench for power connection: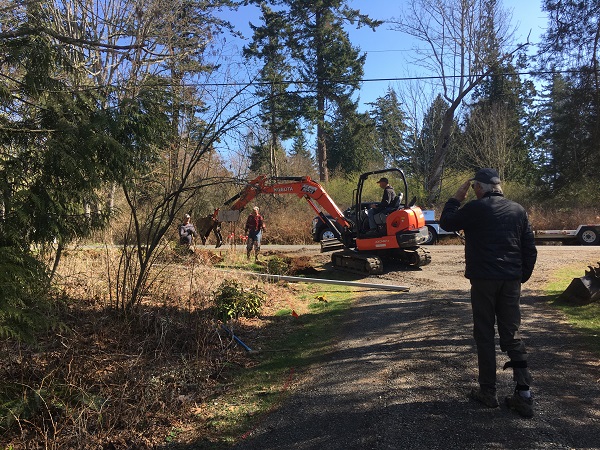 Ditches from the road to the house for power (gray) and water (white):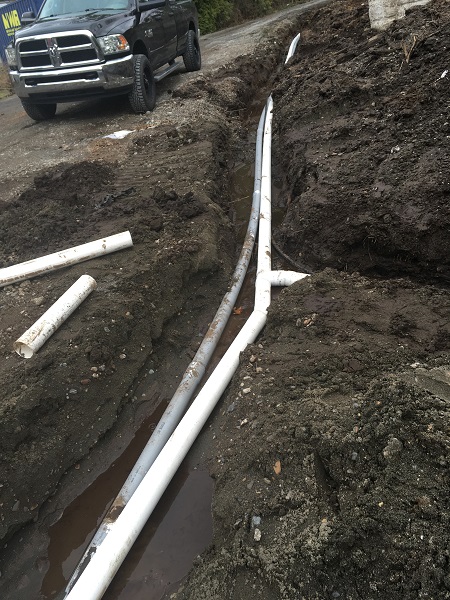 I'm posting my complete blog entries on my own author website at www.sarastamey.com, where you can finish this episode and enjoy all the accompanying photos. You can also view the complete Italy series there, as well as many other Rambles. Please continue reading by clicking on the link below, then you can return here (use "go back" arrow above) to comment, ask questions, or join a conversation. We love your responses!
https://sarastamey.com/the-rambling-writers-quest-for-home-part-14-a-lot-of-dirt/
*****
You will find The Rambling Writer's blog posts here every Saturday. Sara's latest novel from Book View Café is Pause, a First Place winner of the Chanticleer Somerset Award and an International Pulpwood Queens Book Club selection. "A must-read novel about friendship, love, and killer hot flashes." (Mindy Klasky).  Sign up for her quarterly email newsletter at www.sarastamey.com