Thor and I continue our journey toward our dream home as our builder and his crews start on more interior projects.
NOTE: People have been asking to follow our progress as Thor and I pursue our quest for our dream home with sunsets over the Salish Sea. So starting with my post of 5/21/22, we set out.
Thor and I are fascinated with the complexity of details that go into building a house here in the U.S. I'm especially bemused by the contrast with the comparatively simple process of building my former casita in southern Chile, which used all hand tools with no electricity available. But make no mistake, I'm very excited at the prospect of enjoying some comfort and luxury after many years of roving and some pretty sketchy living arrangements.
This week we'll check in on Alexi, our wonderful tile guy. We've grown quite fond of him, as he is a very sweet guy who dotes on Bear dog — cuddles him as he croons, "Baby! Baby!" He moved here from Ukraine about 20 years ago, but he still has a thick accent, and sometimes his words mix languages in an eager tumble. But chatting with him, I've learned some about living conditions in Ukraine under the Soviet Union, and then after liberation. He is a great defender of democracy, as he decried the Russian aggression and the Communist model of government. He is concerned about family members and friends with the invasion impacting everyone there. My heart goes out to them.
Here, Alexi is preparing for tiling in the master bathroom: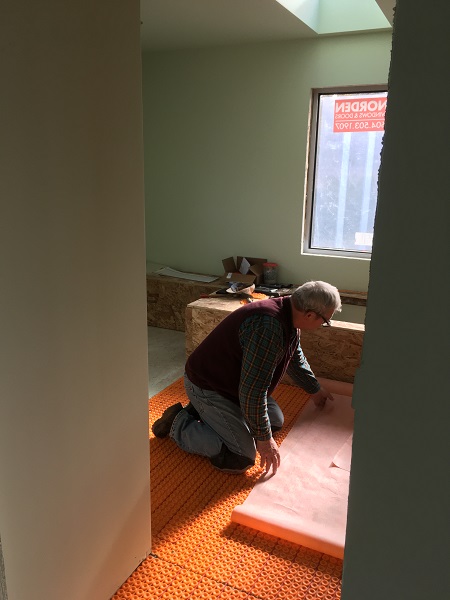 I had already chosen tiles for the bathrooms. (Thor usually just says, "Fine," when I consult him.) The small center piece is a sample of the counter granite. Due to some continuing supply issues from the pandemic, Meshak our builder asked me to consider in-stock tiles to avoid delays. These are from Lowe's and easy on the budget, small mosaic for shower floors, square earth tone for shower walls and tub surround, and slatey colors for floors.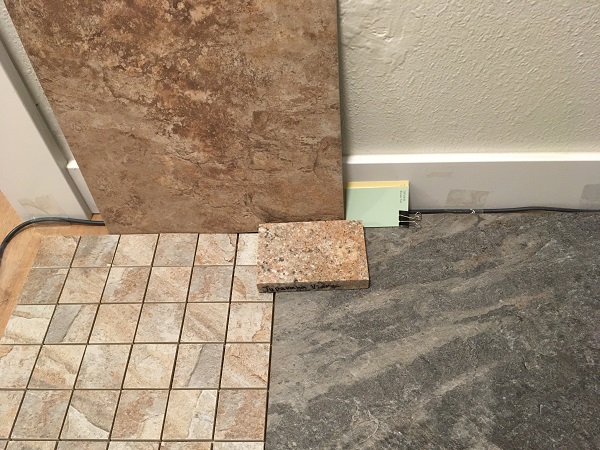 I'm posting my complete blog entries on my own author website at www.sarastamey.com, where you can finish this episode and enjoy all the accompanying photos. You can also view the complete Italy series there, as well as many other Rambles. Please continue reading by clicking on the link below, then you can return here (use "go back" arrow above) to comment, ask questions, or join a conversation. We love your responses!
https://sarastamey.com/the-rambling-writers-quest-for-home-part-13-tiles-flooring-and-stairs-oh-my/
*****
You will find The Rambling Writer's blog posts here every Saturday. Sara's latest novel from Book View Café is Pause, a First Place winner of the Chanticleer Somerset Award and an International Pulpwood Queens Book Club selection. "A must-read novel about friendship, love, and killer hot flashes." (Mindy Klasky).  Sign up for her quarterly email newsletter at www.sarastamey.com