Join Thor and me as we continue your Virtual Italy Vacation with the iconic mode of Venice travel — the gondola!
NOTE: Since travel is still iffy with the pandemic continuing, I started a blog series offering a virtual vacation and time-travel to my first big trip with Thor in 2008. Italy! Starting with highlight photos posted on Saturday, Jan. 30, 2021, I've continued every week, with some detours in real time. You can follow this series and other travel adventures at www.sarastamey.com, as I'm still working to restore my archived earlier posts to our new Book View Cafe website. Join us in Rome, Florence, Cinque Terre, Venice, and Milan. Buon viaggio!
As I mentioned last week, Thor and I finished up our last day in Venice with a romantic ride through narrow canals in a gondola. There are around 400 licensed gondolas/gondoliers in the city now, as compared to thousands in earlier centuries. But, still, they can create a traffic jam in the narrower canals off the main arteries.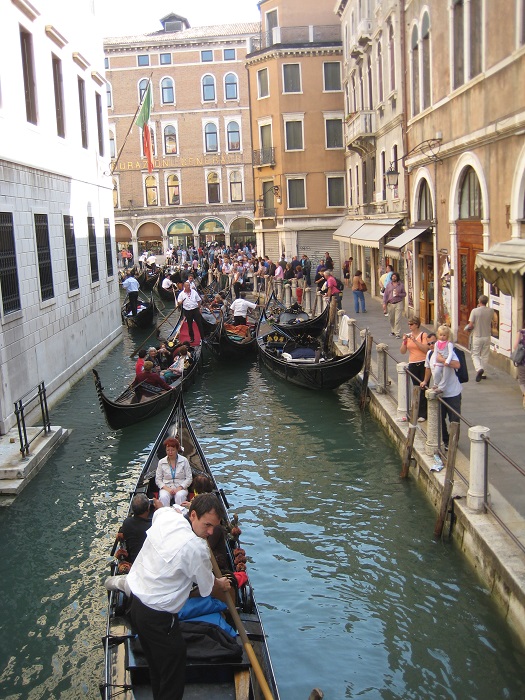 Most gondolas are shiny black, with varying degrees of elegant decorations and cushioned seating. All have the "toothy" prow device that is weighted to counterbalance the weight of the gondolier standing in back and propelling the flat-bottomed, keel-less boat with a long oar. We followed advice to get away from the larger canals and tourist concentrations, wandering lanes and crossing arched bridges to an area that was more laid-back.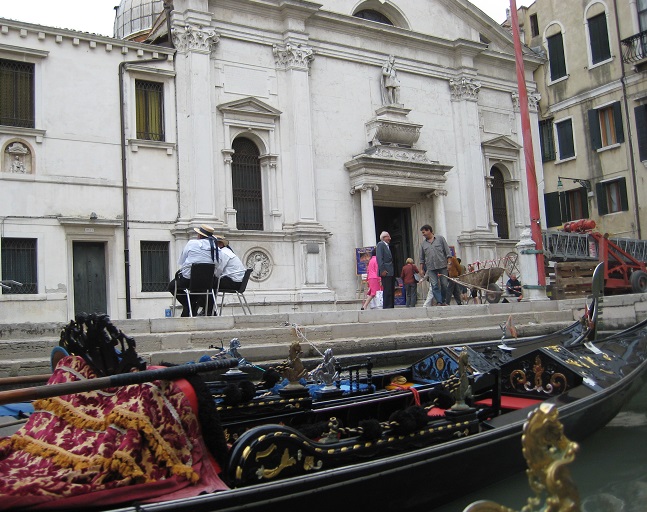 Next to a small square where local children played under the watchful eyes of older women, this gondolier was waiting for clients to materialize. I forget his name, but he claimed to "speak very good English." We quickly settled the price, and as we went along narrow canals, we discovered that he did have a few words we could understand: "Christopher Colomb" and "Fourteen and Ninety-two." There was also something about a building connected with Marco Polo.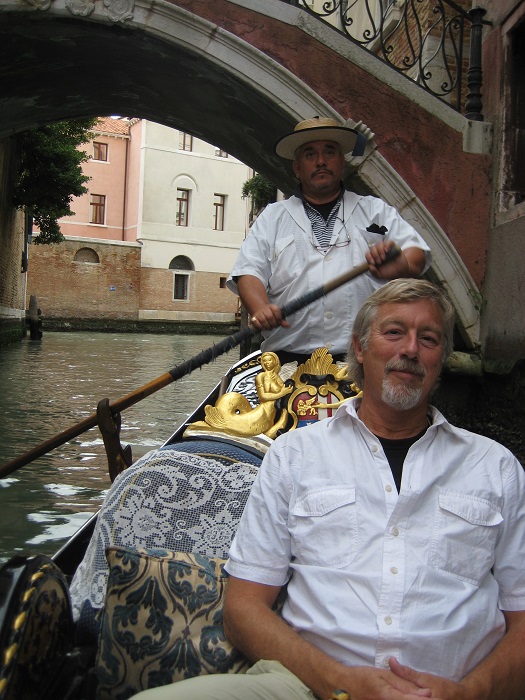 I'm posting my complete blog entries on my own author website at www.sarastamey.com, where you can finish this episode and enjoy all the accompanying photos. You can also view the complete Italy series there, as well as many other Rambles. Please continue reading by clicking on the link below, then you can return here (use "go back" arrow above) to comment, ask questions, or join a conversation. We love your responses!
https://sarastamey.com/the-rambling-writers-italy-part-27-a-gondola-ride-in-venice/
*****
You will find The Rambling Writer's blog posts here every Saturday. Sara's latest novel from Book View Café is Pause, a First Place winner of the Chanticleer Somerset Award and a Pulpwood Queens International Book Club selection. "A must-read novel about friendship, love, and killer hot flashes." (Mindy Klasky).  Sign up for her quarterly email newsletter at www.sarastamey.com