A sneak peek at the start of a new blog series about my adventures buying and building on an abandoned farm in southern Chile.
NOTE: As moving has unearthed boxes of old journals and photos/slides, I've started to resurrect a half-finished novel based on my time owning a farm in remote Southern Chile. And due to popular demand (especially by spousal unit Thor), I'm contemplating finally writing my memoirs of the many phases of my rambling life seeking adventure. Stay tuned! Meanwhile, here is a preview of the Chilean sojourn. I need to digitize a lot of slides, and then I'll start a new blog series. Buen viaje!
As you may have gathered, I've always been ready to jump on the bandwagon when a new adventure beckons, especially one involving travel to foreign lands. My former husband "K" had been harboring a secret dream to move to southern Chile, even though he'd never been there, despite traveling elsewhere in South America as a young man. It was a dream of an unspoiled Southern Hemisphere equivalent of our native Pacific Northwest in Washington State. He complained a lot about the corruption of the U.S. and "ruining" of our beloved wilderness, so I finally said more or less, "Put up or shut up." We decided to backpack around the continent and scout out possible places to live. Southern Chile was indeed beautiful and beckoned to the outdoors spirit we shared.
Long story short (I'll eventually expand once I get photos in place), we ended up buying an abandoned farm on the rather remote island of Calbuco. I had lived and worked in Latin America, and knew that wheels often ground slowly, with very different expectations of "efficiency." K was not prepared, and found it very difficult to adjust. Through many misadventures, we managed to build a lovely casita on our land, and even though the experiment ended up an epic disaster that led to return to the U.S. and divorce, I have fond memories of our new Chilean friends, our sometimes hilarious (mis)adventures, and of the many fresh experiences of the culture.
Here are a few snapshot memories:
With the help of a lucky acquaintance whose son we met while hitchhiking — Pablo Huneeus, a well-known Chilean writer whose summer cottage and land were also on the island — we had bought an abandoned farm on 25 acres with 1/4 mile of beachfront. It was beautiful, but beset with issues we wouldn't realize until moving there…. (That's a cliffhanger, in case you were wondering.)
Another part-time neighbor on the island was the former U.S. Naval Attache to Chile, who asked our help in getting his traditional "lancha Chilote" sailboat shipshape and launched for a local race around the islands. We helped lay log rollers, and a local oxen team pulled the boat down to the water. (The floats are for commercial shellfish baskets.)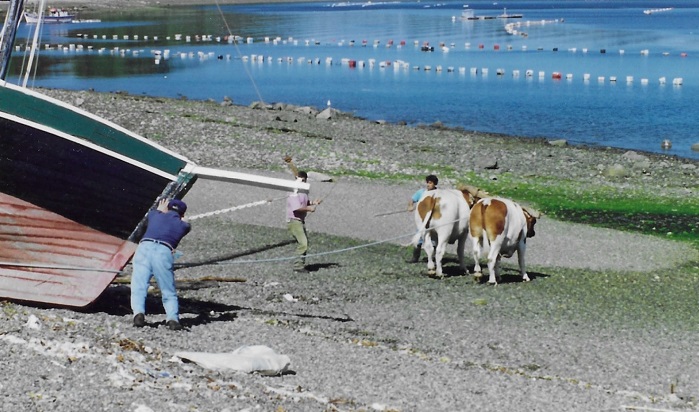 I'm posting my complete blog entries on my own author website at www.sarastamey.com, where you can finish this episode and enjoy all the accompanying photos. You can also view the complete Italy series there, as well as many other Rambles. Please continue reading by clicking on the link below, then you can return here (use "go back" arrow above) to comment, ask questions, or join a conversation. We love your responses!
https://sarastamey.com/the-rambling-writers-chilean-farm-preview/
*****
You will find The Rambling Writer's blog posts here every Saturday. Sara's latest novel from Book View Café is Pause, a First Place winner of the Chanticleer Somerset Award and a Pulpwood Queens International Book Club selection. "A must-read novel about friendship, love, and killer hot flashes." (Mindy Klasky).  Sign up for her quarterly email newsletter at www.sarastamey.com