Join Thor and me as we celebrate the longest day — from a drizzly forest hike to a blazing sunset over the Salish Sea.
We've been experiencing our usual Pacific Northwest "Junuary" of cool, cloudy and drizzly days, punctuated by a couple of real downpours and even a serious bout of hail. We woke up to more clouds and drizzle on the solstice. We needed to do errands in Bellingham and decided that we'd add a hike above Lake Padden — now that we live a 45-minute drive from major stores and services, we have to pack multiple stops into outings. Thor decided that this was a good year for the Devil's Club: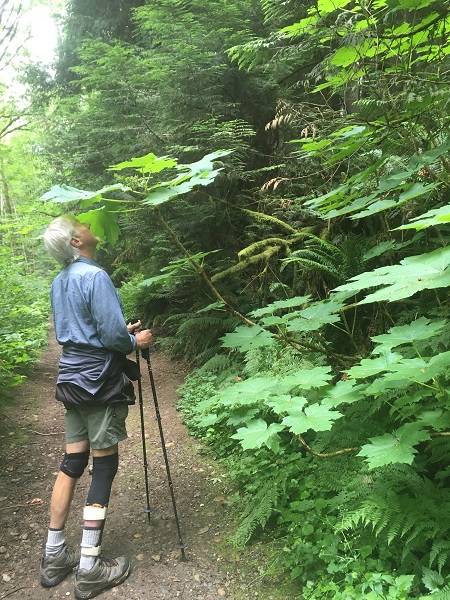 When I was a teenager, my family built a home half a mile from Lake Padden, which became my refuge. Back then, the lake was a retired water reservoir and fenced off, but I easily climbed the 10-foot chain-link fence for private skinny-dipping and hiking. Now a park, it's still a special place for me and now for Thor and Bear dog, too.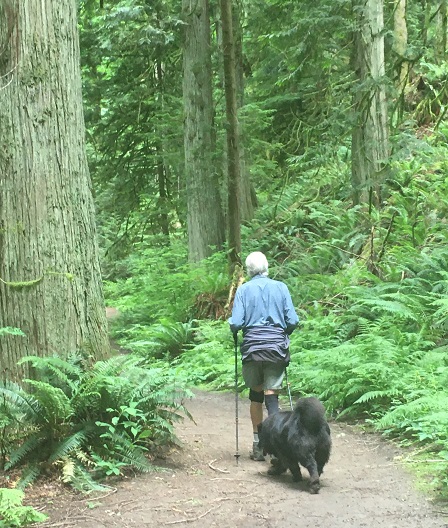 I'm posting my complete blog entries on my own author website at www.sarastamey.com, where you can finish this episode and enjoy all the accompanying photos. You can also view the complete Italy series there, as well as many other Rambles. Please continue reading by clicking on the link below, then you can return here (use "go back" arrow above) to comment, ask questions, or join a conversation. We love your responses!
https://sarastamey.com/the-rambling-writer-summer-solstice-pacific-nw-style/
*****
You will find The Rambling Writer's blog posts here every Saturday. Sara's latest novel from Book View Café is Pause, a First Place winner of the Chanticleer Somerset Award and an International Pulpwood Queens Book Club selection. "A must-read novel about friendship, love, and killer hot flashes." (Mindy Klasky).  Sign up for her quarterly email newsletter at www.sarastamey.com