Treasures in the Iraklion Museum of Archaeology illustrate the story of the ancient goddess of nature and fertility.
NOTE: This is a rerun due to technical difficulties….
Of course, Thor and I had to make another trip to Greece, as he's fallen as much in love with the islands as I am. This time, in addition to other island-hopping, I wanted to return to Crete after 37 years. My first months-long trip was as a hippie backpacker, camping in the ruins and falling under the spell of the mysterious, vanished Minoan culture. This time, I got to introduce Thor to "glorious Kriti" and research more settings for my novel-in-progress, THE ARIADNE DISCONNECT. This new blog series started October 19, 2020.
As I've discussed in previous posts in this series, our sketchy understanding of Minoan (or Keftiu) history is mostly based on the physical remnants of artifacts and architecture. Historians and archaeologists are still putting the puzzle pieces together. However, from the evidence and correlations with known Earth Goddess worship (under various names) around the ancient Mediterranean, Egypt, and Middle East, it seems clear that the most important Minoan deity was the (unnamed) Goddess who was the personification of Nature. As we've seen in the frescoes and other art, these people seemed to take joy in the bountiful nature — plants, animals, sea — surrounding them. Images of the Minoan goddess are often associated with fruitful outdoor settings and animals. And because she is also associated with sacred serpents of underground mysteries and regeneration, she is also a chthonic (deep earth) goddess who represents elemental powers, such as the frequent earthquakes in this region. She is also frequently depicted as descending from the sky, so she really covered all the bases!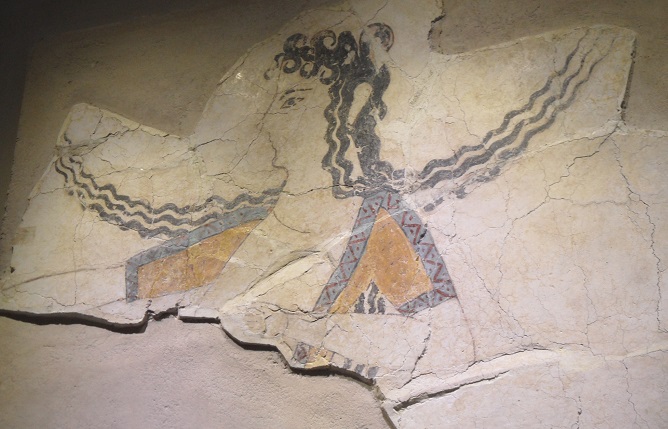 She is the very image of the near-future Ariadne in my novels, descended from a long line of Princess/Priestess Ariadnes on Crete — but more on that below….
One of the earliest figures of the earth goddess in the museum is this libation vessel from around 2000 BC (central figure):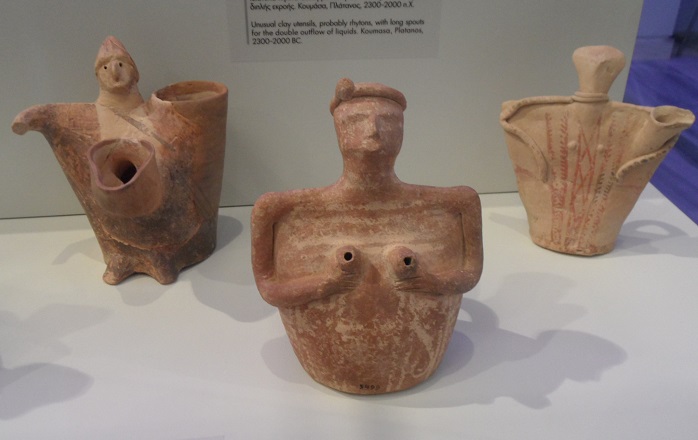 I'm posting my complete blog entries on my own author website at www.sarastamey.com, where you can finish this episode and enjoy all the accompanying photos. You can also view the complete Italy series there, as well as many other Rambles. Please continue reading by clicking on the link below, then you can return here (use "go back" arrow above) to comment, ask questions, or join a conversation. We love your responses!
https://sarastamey.com/the-rambling-writer-returns-to-crete-part-20-the-minoan-earth-goddess/
*****
You will find The Rambling Writer's blog posts here every Saturday. Sara's Book View Cafe Greek islands novel is available in print and ebook: The Ariadne Connection.  "Technology triggers a deadly new plague. Can a healer find the cure?"  The novel has received the Chanticleer Global Thriller Grand Prize and the Cygnus Award for Speculative Fiction. Sara has recently returned from another research trip in Greece and is back at work on the sequel, The Ariadne Disconnect. Sign up for her quarterly email newsletter at www.sarastamey.com