Guest blogger, most excellent travel partner and spousal unit Thor Hansen, muses about sacred-space ornamentations around the world.
Greetings Bibliophiles!  Sara is insanely busy cleaning out her home office and more in preparation for our move, so she asked me if I would like to contribute a blog post.  I suspect she also wants to keep me out of her hair while I mope around the house recovering from shoulder surgery.  So here goes.  She has been guiding you through our travels to exotic places with meticulously researched comments and insights about the local culture.  I am more of a "big picture" sort of guy, meaning I just wander around and gawk at things.  By way of example, here is a conversation I recorded in Greece after Sara had read a billboard-sized caption on a pile of rocks.
Sara:  "Did you know that this was a castle that King Crowbar captured in 300 B.C.?
Thor: "Really?"
Sara: "Yes! And his son, Prince Masterlube, overthrew him 20 years later, just before the King of Ibuprofen invaded the island."
Thor: "Wow."
I treasure these exchanges.  That said, while looking at photos from some of our trips I was fascinated by the different decorative styles employed on sacred sites around the world. For example, one cannot help but be awed by the profusion of architectural details on the temples in Bangkok. The Grand Palace is a particularly good example.  Look at this picture of one part of the palace (top photo).  You can see how every surface is intricately decorated.
Now look at this closer view; detail upon detail.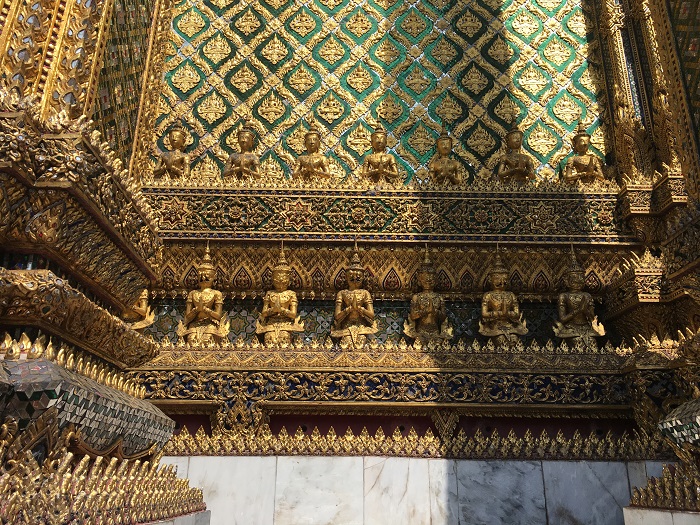 I'm posting my complete blog entries on my own author website at www.sarastamey.com, where you can finish this episode and enjoy all the accompanying photos. You can also view the complete Italy series there, as well as many other Rambles. Please continue reading by clicking on the link below, then you can return here (use "go back" arrow above) to comment, ask questions, or join a conversation. We love your responses!
https://sarastamey.com/the-rambling-writer-guest-post-thor-talks-travel-design/
*****
You will find The Rambling Writer's blog posts here every Saturday. Sara's latest novel from Book View Café is Pause, a First Place winner of the Chanticleer Somerset Award and a Pulpwood Queens International Book Club selection. "A must-read novel about friendship, love, and killer hot flashes." (Mindy Klasky).  Sign up for her quarterly email newsletter at www.sarastamey.com