Our discoveries continue as Thor and I (and Bear dog, of course) explore the attractions around our building plot.
NOTE: People have been asking to follow our progress as Thor and I pursue our quest for our dream home with sunsets over the Salish Sea. So starting with my post of 5/21/22, we set out, starting with buying a high-bluff waterfront building lot, selling our existing home, and onward….
While jumping through endless hoops of county and state requirements for shoreline building, before they'll let our builder submit our building permit, we have spent a lot of time at the property, doing a bit of weed-whacking and mostly picnicking. And exploring close options for outings in the "neighborhood." A few minutes to the north of us, the high banks slope down to skinny Semiahmoo Spit, site of indigenous fishing activities. In high school, I took part in a senior-project archaeology dig there. We found mostly a lot of fish vertebrae in old middens, but it was a lot of fun camping and helping out with the dig. Later development of Semiahmoo Resort with marina/condos/golf course changed the terrain significantly. A necessary new wastewater treatment plant for the nearby city of Blaine and the resort was started on the spit, which triggered a scandal when the archaeologist assigned to monitor the construction found indigenous human bones and hid them so construction would not be delayed. The story:
https://archive.seattletimes.com/archive/?date=19991219&slug=A19991221083354
Restitutions were made to the Lummi Tribe after a long and painful process of grieving by the tribal people, a part of the Coast Salish group, and the construction was finished. Now there's a pleasant walk along the east, bay side of the spit with views of Mt. Baker to the east (top photo with Canada geese) and Canadian mountains to the north (photo below). The border between U.S. and Canada is just minutes away by car or boat. Below, a great blue heron fishes along the shore.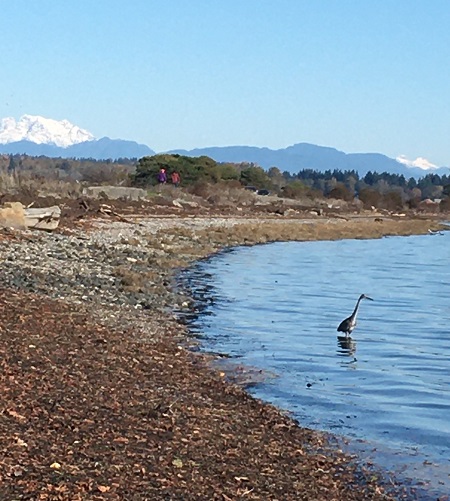 On the other, west side of the very narrow spit, the pebble/sand shoreline is open to the Salish Sea and Strait of Georgia. Below, a low tide walk with Bear dog's "Aunt Brenda" (she fostered him with the rescue group Happy Tails) and her new rescue dog JJ. The two dogs had a great time wrestling and playing in the water.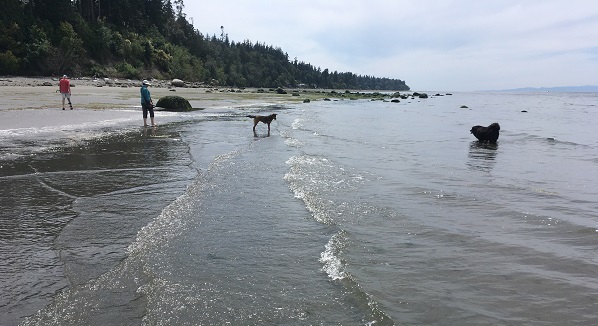 I'm posting my complete blog entries on my own author website at www.sarastamey.com, where you can finish this episode and enjoy all the accompanying photos. You can also view the complete Italy series there, as well as many other Rambles. Please continue reading by clicking on the link below, then you can return here (use "go back" arrow above) to comment, ask questions, or join a conversation. We love your responses!
https://sarastamey.com/the-rambling-writers-quest-for-home-part-4-new-neighborhood/
*****
You will find The Rambling Writer's blog posts here every Saturday. Sara's latest novel from Book View Café is Pause, a First Place winner of the Chanticleer Somerset Award and a Pulpwood Queens International Book Club selection. "A must-read novel about friendship, love, and killer hot flashes." (Mindy Klasky).  Sign up for her quarterly email newsletter at www.sarastamey.com