Since the pandemic has crimped a lot of travel plans, why not escape with Thor and me as we wistfully revisit some of our favorite beaches on fabulous Rhodos?
NOTE: Of course, Thor and I had to make another trip to Greece, as he's fallen as much in love with the islands as I am. This time I wanted to return to Crete after 37 years, to introduce Thor to "glorious Kriti" and research more settings for my novel-in-progress, THE ARIADNE DISCONNECT. After time-traveling via ruins and museums to explore the mysterious, vanished Minoan culture, we went ferry-hopping to relax on a couple of our favorite islands.
This was our third trip to the big island of Rhodes in the Dodecanese near Turkey, and it was Thor's turn to escape museums in favor of beaches. (For coverage of wonderful Medieval Rhodes Town and Classical Lindos, check out my blog posts from the previous two years.) And, since this trip was partly physical therapy for both of us — seriously, doctors urging us to spend more time swimming in warm climes! — we were happy to comply. The lure of that magical blue Aegean Sea is not to be resisted.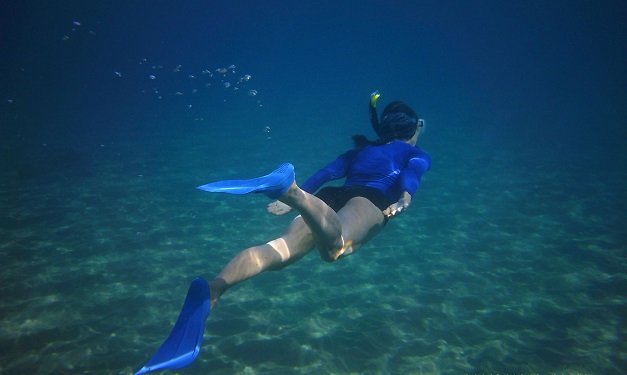 Like Peter Mitchell in THE ARIADNE CONNECTION, I'm drawn ever deeper:
He kicked hard, straight down into hushed shadow. The water split and reformed around him as he arrowed into it, sharp-edged as flowing crystal. It was bare underneath, too, rock outlined precise below him, not much in the way of fish or plants. Here and there a sparse weed curtsied in the swell, fingerlings scattering in a silver spurt of alarm. But the water: incredible clear blue like swimming in air, and the pure salt cool of it you could almost see forever stay forever, siren voices calling him deeper….
So, eager to explore a new location on the south side of the island, Stegna Beach, we set out in our rental car for another of those steep, hair-raising drives down a rocky cliffside to the small cove.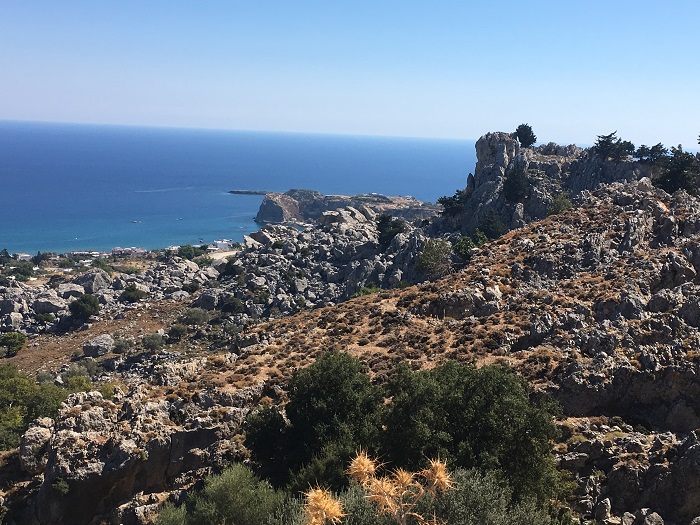 Naturally, we encountered goats browsing along the roadside.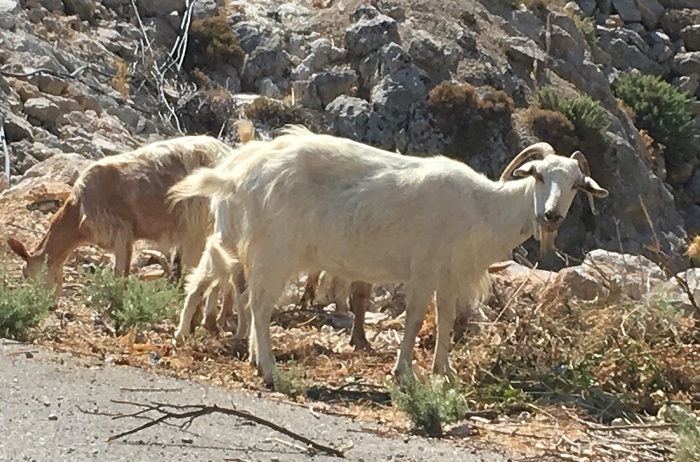 I'm posting my complete blog entries on my own author website at www.sarastamey.com, where you can finish this episode and enjoy all the accompanying photos. You can also view the complete Italy series there, as well as many other Rambles. Please continue reading by clicking on the link below, then you can return here (use "go back" arrow above) to comment, ask questions, or join a conversation. We love your responses!
https://sarastamey.com/the-rambling-writers-greek-islands-2019-part-1-rhodes-beaches/
*****
You will find The Rambling Writer's blog posts here every Saturday. Sara's novel The Ariadne Connection from Book View Cafe is available in print and ebook, a near-future thriller set in the Greek islands. "Technology triggers a deadly new plague. Can a healer find the cure?"  The novel has received the Chanticleer Global Thriller Grand Prize and the Cygnus Award for Speculative Fiction. Sara is back at work on the sequel, The Ariadne Disconnect. Sign up for her quarterly email newsletter at www.sarastamey.com