Join me for Day 1 of my featured week as a Pulpwood Queens Book Club author for my novel PAUSE.
I'm honored to have my seriocomic novel of midlife reinvention PAUSE, published by Book View Cafe, selected by The International Pulpwood Queens Book Club as a December 2022 title. The club was started over 20 years ago by Kathy L. Murphy and has grown into the biggest meeting and discussing book club in the world – with 800 chapters, including chapters in 20 foreign countries. http://www.thepulpwoodqueens.com Garnering attention from Oprah Winfrey and others, many of Kathy's book picks have gone on to bestseller status and film. During my featured week in late December, I was asked to post every day about my novels and writing life on the Facebook page ( @The Pulpwood Queen Presents Her Picks). All of my novels I discuss here are available at https://www.bookviewcafe.com
I also enjoyed a delightful Zoom "Conversation with the Author" with Kathy, recorded in this YouTube video: https://www.youtube.com/watch?v=6jHrT0mn6vw&t=187s
My Day 1 post:
My seriocomic novel of midlife reinvention PAUSE grew from the seed of my own midlife transition journal, when I found that laughing at some of the absurdities in my struggles helped me in my journey. When I later created the story of feisty Lindsey Friedland, I worked in brief excerpts of her diary, as she moved on from divorce, cancer, and family/work crises amid "epic hot flashes" and ridiculous attempts at dating.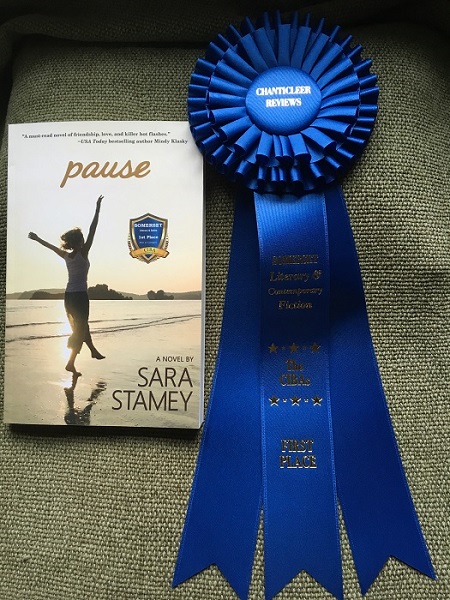 Here's the back cover description:
Dear Diary,
Shall we pause to take stock?
Female (liberated, at least from fraught marriage). Age 52, height 5'5", weight 120, bone density excellent, minimal cellulite, maximal hot flashes. One and ¾ breasts.
Months since sex: 27
Lindsey Friedland, former river-rafting guide and avid outdoorswoman, has hit the worst stretch of water she's ever faced: divorce from an abuser, breast cancer, menopause symptoms that her friends seem to have paddled serenely by. And she's lost sight of her dream of becoming an environmental journalist.
Lindsey needs to get her spark back.
Dear Diary, Disastrous blind dates so far: The walking cologne bottle. The "really want a gal to give me babies" guy. The pushy past-life reintegration facilitator.
Will Lindsey make it past the rocky shoals of family upheavals, job crises, sexism, and ageism… not to mention toxic love traps? Does "happily ever after" now mean settling for occasional (but hot!) sex with Mr. Maybe? Can she reclaim her journalism dream?
Dear Diary, I'm tired of being tragic. I'm sending off my article about the bulldozers versus the baby owls.
*****
PAUSE is my sixth published novel (various partly-finished manuscripts await in the hopper), and I'll talk more about it in my next post. I like to think that my writing career started around age 5, when my Grandma Sara (my mom's mother) babysat me and played the "Authors" card game and Scrabble with me. I loved playing with words and decided that I would be an Author, too. Here's Grandma and Gramps at the piano, where they loved to play and sing with the family.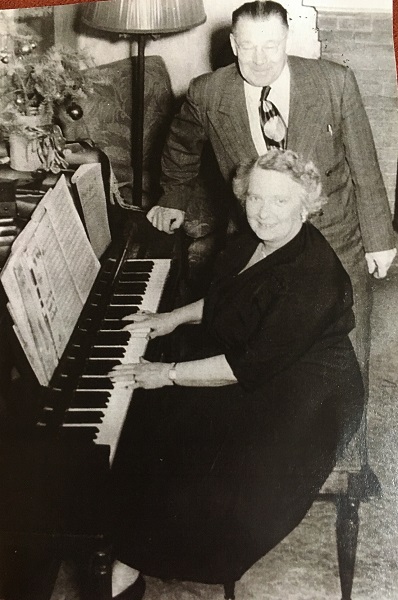 I'm posting my complete blog entries on my author website at www.sarastamey.com, where you can finish this episode and enjoy all the accompanying photos. Please continue reading by clicking on the link below, then you can return here (use "go back" arrow above) to comment, ask questions, or join a conversation. We love your responses!
https://sarastamey.com/the-rambling-writers-featured-week-with-the-pulpwood-queens-book-club-day-1/
*****
You will find The Rambling Writer's blog posts here every Saturday. Sara's latest novel from Book View Café is Pause, a First Place winner of the Chanticleer Somerset Award and an International Pulpwood Queens Book Club selection. "A must-read novel about friendship, love, and killer hot flashes." (Mindy Klasky).  Sign up for her quarterly email newsletter at www.sarastamey.com