I continue my conversation with the Pulpwood Queens Book Club, this time about the roots of my novel THE ARIADNE CONNECTION.
NOTE: This series started on Dec. 31. I'm honored to have my seriocomic novel of midlife reinvention PAUSE, published by Book View Cafe, selected by The International Pulpwood Queens Book Club as a December 2022 title.  http://www.thepulpwoodqueens.com  During my featured week in late December, I was asked to post every day about my novels and writing life, so am reproducing them in this series. All of my novels I discuss are available at https://www.bookviewcafe.com
Kali mera! (Good morning) This time I'll talk about my Greek islands pandemic/healer novel THE ARIADNE CONNECTION, which won the Chanticleer Global Thriller Grand Prize.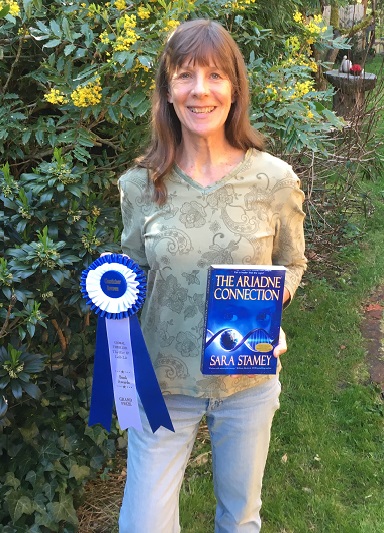 First, the back cover copy for some context of the story:
A Journey to the Crossroads of Science and Myth
The New Leprosy plague and a geomagnetic reversal threaten earth's precarious balance. An unlikely trio may hold the key to reset the compass of the world:
"Saint Ariadne" Demodakis—a Greek bioelectricity researcher who realizes she's curing plague victims by laying on hands.
Peter Mitchell—a jaded American veteran of the latest Gulf War, now a smuggler in the Mediterranean.
Leeza Conreid—a paparazza equipped with the latest neurally-connected media implants, who wants revenge and a big story.
Peter, blackmailed into bringing Leeza along, hires on with reclusive Ariadne to secretly transport her to sacred sites in the Greek islands. She seeks to confirm a connection between the pandemic, geologic upheavals, and ancient lore that promises healing for humans and the planet.
Peter doesn't realize they'll be pursued by violent Sons of the Prophet, mercenaries, and a cult of warrior women, out to claim Ariadne's rumored powers—or kill her. He will need all his wits and weapons to protect Ariadne as she labors to control her connection to the dangerous forces that may deliver a global cure. Or destroy them all.
    ***
The seeds of the novel grew from my lifelong fascination with Greek mythology, culture, and art. Below, a recent trip to Lindos on Rhodes: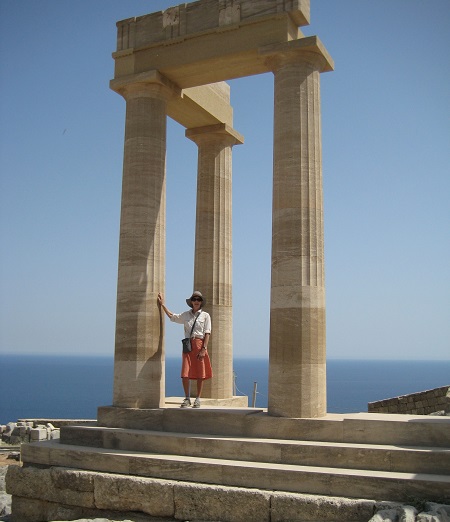 My first extended travel out of the U.S. was a four-month-long backpacking trip through the Greek islands and mainland with my then-partner Jim, in 1982. I was thrilled to finally see the Parthenon and Athens, the birthplace of the democratic ideal, and walk in the footsteps of Homer and Plato. The Parthenon is a symbol of hope for my character Ariadne at a desperate point in the novel.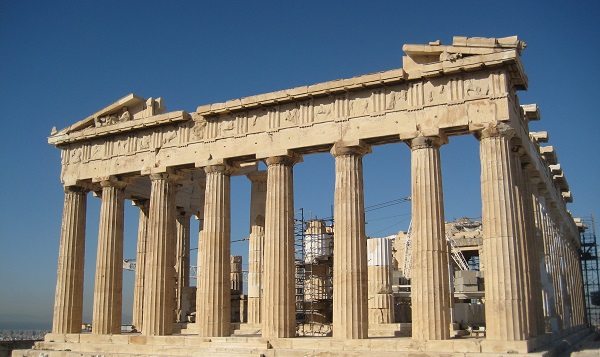 I'm posting my complete blog entries on my author website at www.sarastamey.com, where you can finish this episode and enjoy all the accompanying photos. Please continue reading by clicking on the link below, then you can return here (use "go back" arrow above) to comment, ask questions, or join a conversation. We love your responses!
https://sarastamey.com/the-rambling-writers-featured-week-with-the-international-pulpwood-queens-book-club-part-5/
*****
You will find The Rambling Writer's blog posts here every Saturday. Sara's latest novel from Book View Café is Pause, a First Place winner of the Chanticleer Somerset Award and an International Pulpwood Queens Book Club selection. "A must-read novel about friendship, love, and killer hot flashes." (Mindy Klasky).  Sign up for her quarterly email newsletter at www.sarastamey.com