More discussion of the roots of my novels as I lived up to my diagnosis of a Hemingway Complex — my Caribbean suspense novel ISLANDS.
NOTE: This series started on Dec. 31. I'm honored to have my seriocomic novel of midlife reinvention PAUSE, published by Book View Cafe, selected by The International Pulpwood Queens Book Club as a December 2022 title.  http://www.thepulpwoodqueens.com  During my featured week in late December, I was asked to post every day about my novels and writing life, so am reproducing them in this series. All of my novels I discuss are available at https://www.bookviewcafe.com
ISLANDS grew out of my experiences as a scuba divemaster/instructor in the Virgin Islands in the 1980s.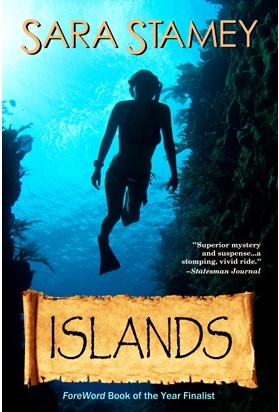 I'll start with the novel's back cover description:
"Welcome to Paradise," archeologist Susan Dunne hears on arrival at the Caribbean island to research petroglyphs and unravel the mystery of her brother's drowning. Was it murder? This sunny tourist mecca conceals shadowy secrets — violent native unrest, a sunken treasure ship guarded by legendary Jumbies, and a bloodthirsty cult. Can Susan resist her attraction to her number one suspect, unpredictable combat vet Vic Manden? The most disturbing secrets she must explore are the ones hidden in her disturbing psychic visions, clues that challenge her notions of truth and reality.
"A superior mystery and suspense novel… a stomping, vivid ride."
Dan Hays, Statesman Journal
*****
In the 1980s, I was eager for adventure after writing my first novel, the science fiction WILD CARD RUN (more about that on a later date). My partner Jim and I embarked on travels, as well as teaching scuba in various locales in the Caribbean. Our first scuba jobs were in the Virgin Islands, where I found plenty of exciting contrasts with my native Pacific Northwest. We lived for months in a tree-house with no running water or electricity, but the climate was so warm that our outdoor shower — a black hose running from our generous neighbor's cistern — was a delight among the tropic foliage.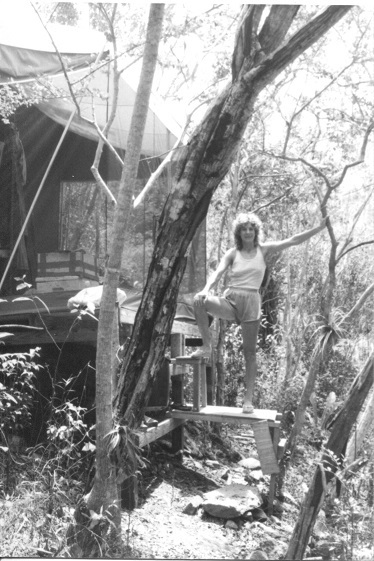 The novel's character of Vic was loosely modeled on Jim — they had similar appearance, both had been drafted and wounded in the Vietnam War, and both practiced Karate.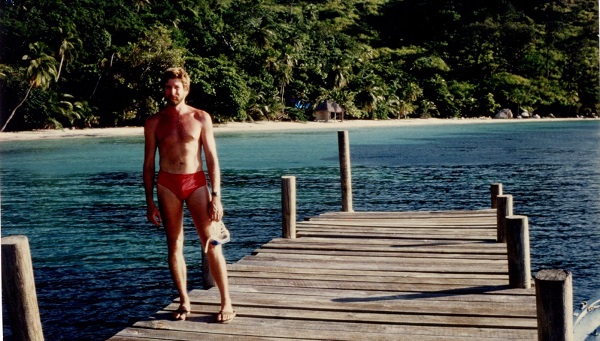 I'm posting my complete blog entries on my author website at www.sarastamey.com, where you can finish this episode and enjoy all the accompanying photos. Please continue reading by clicking on the link below, then you can return here (use "go back" arrow above) to comment, ask questions, or join a conversation. We love your responses!
https://sarastamey.com/the-rambling-writers-featured-week-with-the-international-pulpwood-queens-book-club-part-3/
*****
You will find The Rambling Writer's blog posts here every Saturday. Sara's latest novel from Book View Café is Pause, a First Place winner of the Chanticleer Somerset Award and an International Pulpwood Queens Book Club selection. "A must-read novel about friendship, love, and killer hot flashes." (Mindy Klasky).  Sign up for her quarterly email newsletter at www.sarastamey.com