Join Thor, Bear dog, and me as we repeat one of our favorite hikes, Chain Lakes in the Mt. Baker Wilderness.
A bit too much "life" going on this week. Last week, Thor, Bear dog, and I enjoyed another Geezer Adventure with a moderate hike and fabulous swimming in the mountain lakes below Ptarmigan Ridge, below Mt. Baker. One of our favorite hikes, hurrah! This week nerve pain has ratcheted up, so here's a rerun of the hike from 2018. Some things remain the same: the terrible wildfires ravaging the West again this summer, along with droughts. We've been lucky here in the Pacific Northwest, but now more wildfires are coming near, with smoke from local and distant fires. Once again, we feel humbly blessed to live here in the mostly green Pacific Northwest. So let's take a deep breath of coolness, greenery, and mountain wildflowers.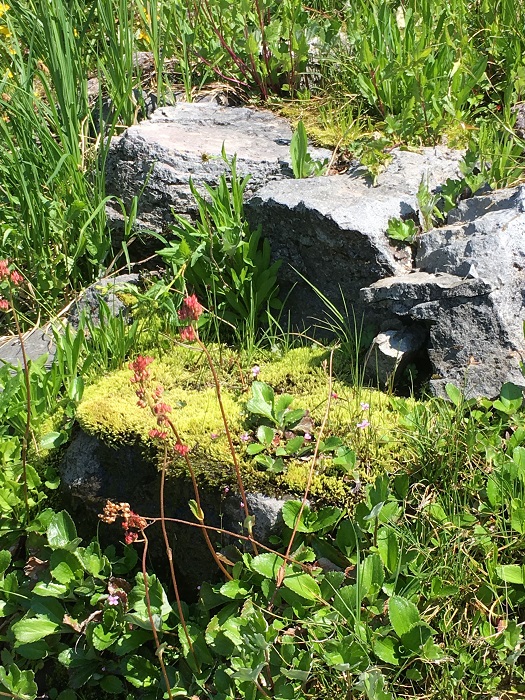 I'm posting my complete blog entries on my author website at www.sarastamey.com, where you can finish this episode and enjoy all the accompanying photos. Please continue reading by clicking on the link below, then you can return here (use "go back" arrow above) to comment, ask questions, or join a conversation. We love your responses!
https://sarastamey.com/the-rambling-writer-rerun-chain-lakes-hike-2018/
*****
You will find The Rambling Writer's blog posts here every Saturday. Sara's latest novel from Book View Café is Pause, a First Place winner of the Chanticleer Somerset Award and an International Pulpwood Queens Book Club selection. "A must-read novel about friendship, love, and killer hot flashes." (Mindy Klasky).  Sign up for her quarterly email newsletter at www.sarastamey.com