Join Thor and me as we gather beach pebbles from nearby Pacific Northwest beaches and enjoy the lively sea creatures.
…of cabbages and kings — No, wait, wrong story. This one takes Thor, Bear dog, and me to a favorite nearby hike, from Rosario Beach, along Bowman Bay (top photo), and to Deception Pass. We were trying to escape the horrible lingering wildfire smoke blanketing our county. Driving about 45 minutes south, we found mostly blue skies and some fabulous beach pebbles to fuel Thor's new obsession of rock polishing. We started at Rosario Beach, under the watchful eyes of the Ko-kwal-alwoot totem honoring the native woman who sacrificed herself to insure her people would not go hungry. Salmon are sacred and essential here.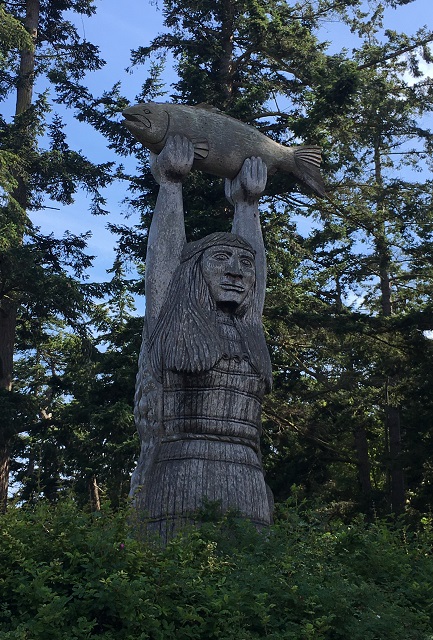 The hike is sometimes a scramble around the steep, rocky headlands of the coast, but flattens along the curve of the Bowman Bay beach, where Thor went wild collecting pebbles for his new "obsession." With our day packs a bit heavier, we proceeded to climb another steep headland due to high tide, down, and then up again to a headland overlooking Deception Pass. Here early European navigators hoped to find the fabled Northwest Passage, but were fooled.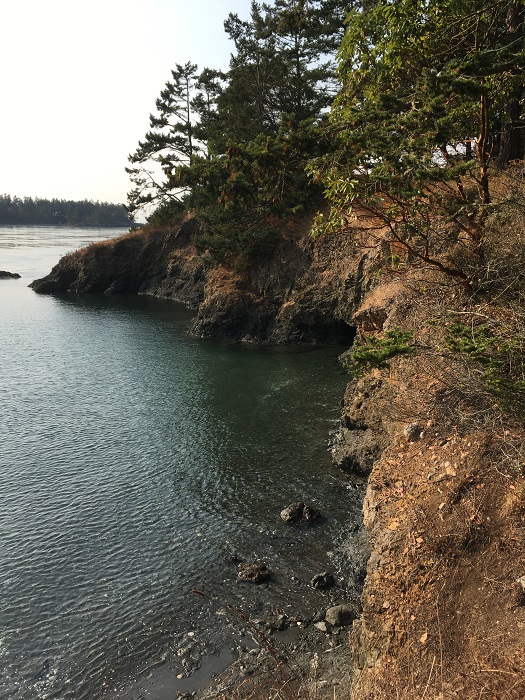 I'm posting my complete blog entries on my author website at www.sarastamey.com, where you can finish this episode and enjoy all the accompanying photos. Please continue reading by clicking on the link below, then you can return here (use "go back" arrow above) to comment, ask questions, or join a conversation. We love your responses!
https://sarastamey.com/the-rambling-writer-of-pebbles-and-porpoises/
*****
You will find The Rambling Writer's blog posts here every Saturday. Sara's latest novel from Book View Café is Pause, a First Place winner of the Chanticleer Somerset Award and an International Pulpwood Queens Book Club selection. "A must-read novel about friendship, love, and killer hot flashes." (Mindy Klasky).  Sign up for her quarterly email newsletter at www.sarastamey.com