Join Thor, Bear dog, and me as we finally get back to the mountains for some early summer hiking.
NOTE: This is a bit of a rerun with ironic flavor, as Thor and I were on the mend in early 2020 after various injuries/disabilities. And now we're returning to one of our favorite trails two years later, after an even more challenging couple of years — pandemic (of course); out-of-the-blue lung cancer surgery for this never-smoker along with various other health issues, and 3 surgeries for Thor including a shoulder replacement; selling our home and planning to build a seaside house if county bureaucracy will ever let us…. And the decision this week by the GOP-politicized Supreme Court to allow more air pollution just as the UN declares once more that our environment is in dire danger. I am so angry at what humans are wreaking on this beautiful world that I needed a reminder of the serenity of the wilderness and what we need to fight to save. So Thor and I declared another "Carpe Diem" and headed up to Hannegan Pass for fresh mountain air, wildflowers, and checking out the snowline.
As we gazed longingly toward the snow-capped peak of Mt. Baker an hour away, we declared, "It's time!" We would work with what we've got. For a starter hike this season, we picked the easy lower portion of Hannegan Peak Trail, relatively snow-free in early summer and featuring a gradual ascent.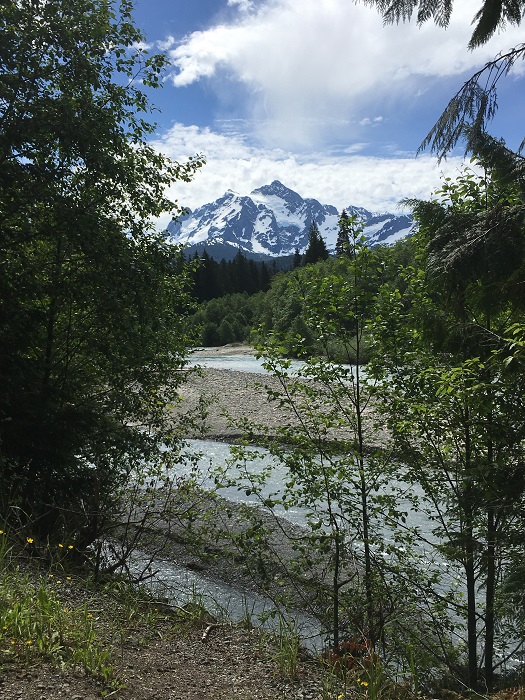 To read the whole post on my author website, click on this link:
https://sarastamey.com/the-rambling-writer-returns-to-the-mountains/
When you're done, you can click the "go back" arrow to return to this site. I hope you enjoy the outing!
*****
You will find The Rambling Writer's blog posts here every Saturday. Sara's latest novel from Book View Café is Pause, a First Place winner of the Chanticleer Somerset Award and an International Pulpwood Queens Book Club selection. "A must-read novel about friendship, love, and killer hot flashes." (Mindy Klasky).  Sign up for her quarterly email newsletter at www.sarastamey.com