Join Thor, Bear dog, and me for a rerun of one of our favorite hikes to the Goat Mountain overlook and a celebration of wildflowers.
Continuing our Geezer Adventures, Thor and I assessed the state of our aging bodies, and in between physical therapy appointments, seized the day for a return to Goat Mountain. We knew it would be a challenge, as I'm still dealing with tachycardia and shortness of breath that seem to have been triggered by my major lung-cancer surgery two years ago (I have never smoked, I hasten to add). My old nemesis, cervical stenosis, has also reared hits ugly neck this summer, so I'm taking medication that makes me loopy and not good for much writing, but my legs still mostly work. And Thor has weathered three surgeries this year, including a shoulder joint replacement, along with his permanent nerve damage in the right calf that requires a prosthetic device for walking. I'm not trying to elicit sympathy, but hopefully to demonstrate that there are still possibilities out there for everyone suffering the inevitable indignities of bodies well past their half-lives. This year, we didn't make it to the top, which was a disappointment, but we made it to the alpine meadows rich with wildflowers and all that vast, clean blue sky etched by mountain peaks.
Since my photos of a previous hike were better than this year's, here's my rerun from 2018:
Tiger lilies seem especially abundant this year: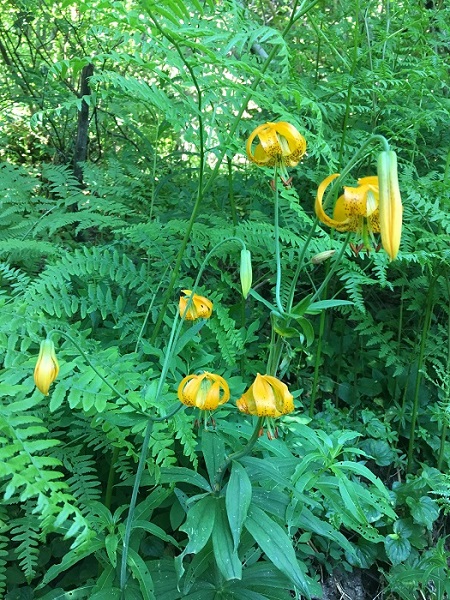 I've yet to identify these lush alpine-meadow plants sprouting among bleeding-heart (my Grandma Sara's favorite), but always enjoy seeing their curling leaves on the way to the overlook. Can anyone name them?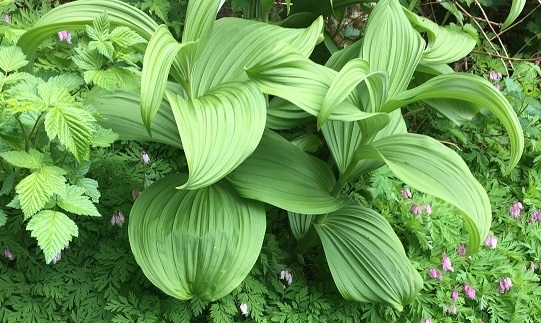 I'm posting my complete blog entries on my own author website at www.sarastamey.com, where you can finish this episode and enjoy all the accompanying photos. You can also view the complete Italy series there, as well as many other Rambles. Please continue reading by clicking on the link below, then you can return here (use "go back" arrow above) to comment, ask questions, or join a conversation. We love your responses!
https://sarastamey.com/the-rambling-writer-hikes-the-goat-mountain-trail/
*****
You will find The Rambling Writer's blog posts here every Saturday. Sara's latest novel from Book View Café is Pause, a First Place winner of the Chanticleer Somerset Award and a Pulpwood Queens International Book Club selection. "A must-read novel about friendship, love, and killer hot flashes." (Mindy Klasky).  Sign up for her quarterly email newsletter at www.sarastamey.com