Join Thor, Bear dog, and me as we renew acquaintance with a favorite hike in the Mt. Baker National Forest.
Thor and I finally decided that we'd had enough with our continual rehab of various body parts, and needed to get back to our nearby mountains. We are now becoming experts at "geezer adventures," or how to do as much as possible with minimal accommodations. So we loaded up Bear dog and equipment and headed up the Mt. Baker Highway, about an hour and a half into the national forest and wilderness area. The Bagley Lakes hike starts out as very mellow, along the outflow from the main lake beneath Table Mountain below (in background) and (hidden) Mt. Baker. (Top photo is Mt. Shuksan as seen from the trail.)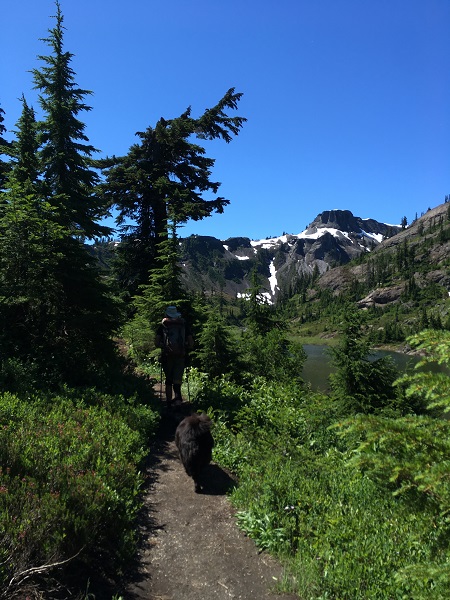 The trail includes a lot of columnar andesite formed from the volcanic activities of still-active Mt. Baker, the native revered Koma Kulshan.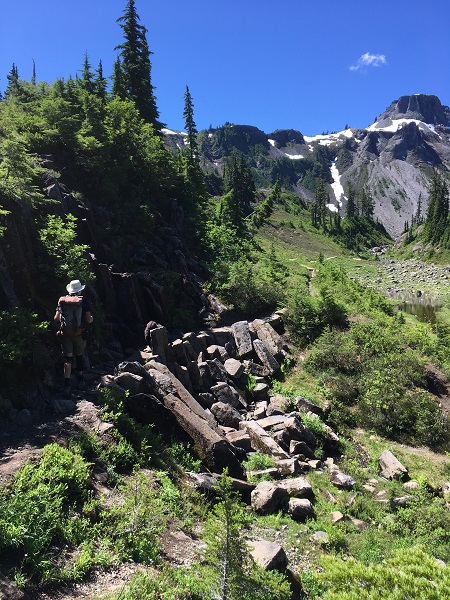 We flushed up a mama grouse and her babies right beside the trail. Mama yelled and flew at Bear dog repeatedly as the babies scurried for cover in the low brush. As we moved away, she hopped onto this log to watch us suspiciously.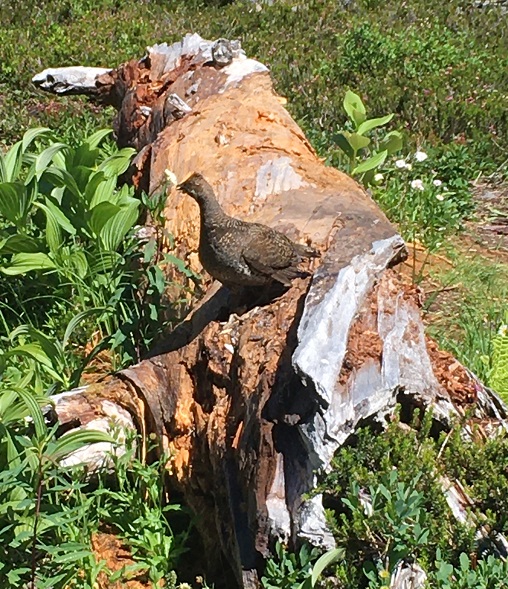 I'm posting my complete blog entries on my own author website at www.sarastamey.com, where you can finish this episode and enjoy all the accompanying photos. You can also view the complete Italy series there, as well as many other Rambles. Please continue reading by clicking on the link below, then you can return here (use "go back" arrow above) to comment, ask questions, or join a conversation. We love your responses!
https://sarastamey.com/the-rambling-writer-hikes-the-bagley-lakes-trail-at-mt-baker/
*****
You will find The Rambling Writer's blog posts here every Saturday. Sara's latest novel from Book View Café is Pause, a First Place winner of the Chanticleer Somerset Award and a Pulpwood Queens International Book Club selection. "A must-read novel about friendship, love, and killer hot flashes." (Mindy Klasky).  Sign up for her quarterly email newsletter at www.sarastamey.com