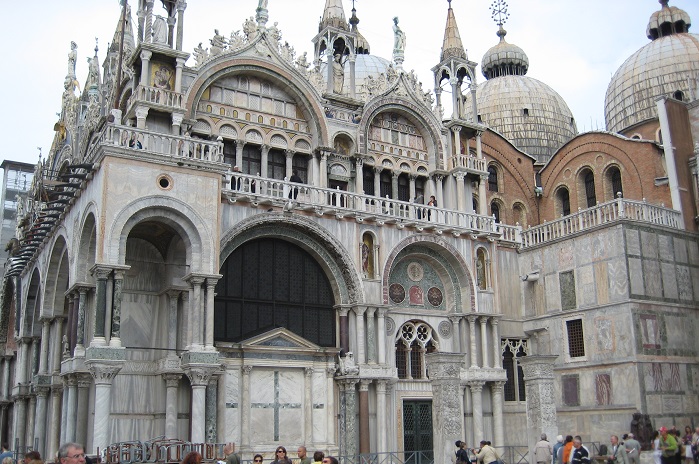 Your retro Virtual Italy Vacation continues as Thor and I admire Venice's magnificent basilica, with its blend of Eastern and Western styles.
NOTE: Since travel is still on hold with the pandemic continuing, I've started a new blog series offering a virtual vacation and time-travel to my first big trip with Thor in 2008. Italy! Starting with highlight photos posted here on Saturday, Jan. 30, 2021, I'm continuing every week (with a few detours in real time). Join us in Rome, Florence, Cinque Terre, Venice, and Milan. Buon viaggio!
In the massive basilica at the heart of Venice, it's easy to see the ancient Roman roots of the basilica structure of the Greek Cross. In Rome, the basilica was originally a place for legal matters and business transactions, rectangular with arched aisles lined with columns and branching off from the main entrance. Now in the Roman Catholic and Orthodox churches, the form can differ, but the designation gives honor and authority to the basilica/church. Basilica di San Marco is, of course, dedicated to Saint Mark, with a statue of him and angels over the main entrance. Started in 978 A.D. on the site of an earlier church that housed relics of the saint, it has gone through additions throughout the centuries. Now, its sheer weight might be its undoing, along with the rest of Venice, as the sea slowly rises over the foundations of the city built on a bog — especially at high tide: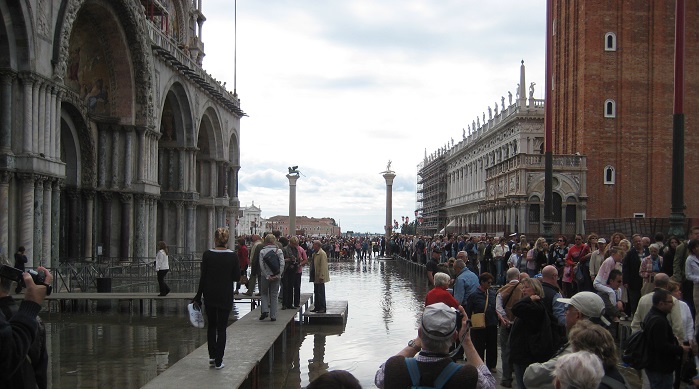 As the sea bubbled up from beneath the piazza pavers, staff people came out to arrange trestles for visitors to enter. At times, the piazza is flooded deeply enough for boats to enter.
One person didn't want to wait, but I wouldn't want to wade in this water after reading about alleged illegal dumping of toxic wastes in the lagoon.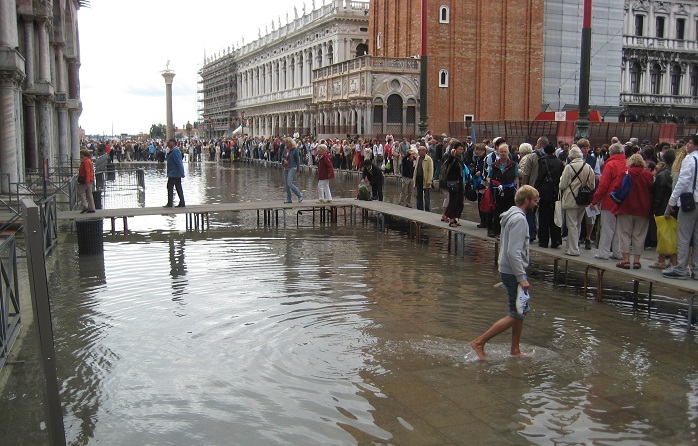 I'm posting my complete blog entries on my own author website at www.sarastamey.com, where you can finish this episode and enjoy all the accompanying photos. Please continue reading by clicking on the link below, then you can return here (use "go back" arrow above) to comment, ask questions, or join a conversation. We love your responses!
https://sarastamey.com/the-rambling-writers-italy-part-23-venice-basilica-di-san-marco/
*****
You will find The Rambling Writer's blog posts here every Saturday. Sara's latest novel from Book View Café is Pause, a First Place winner of the Chanticleer Somerset Award and a Pulpwood Queens International Book Club selection. "A must-read novel about friendship, love, and killer hot flashes." (Mindy Klasky).  Sign up for her quarterly email newsletter at www.sarastamey.com