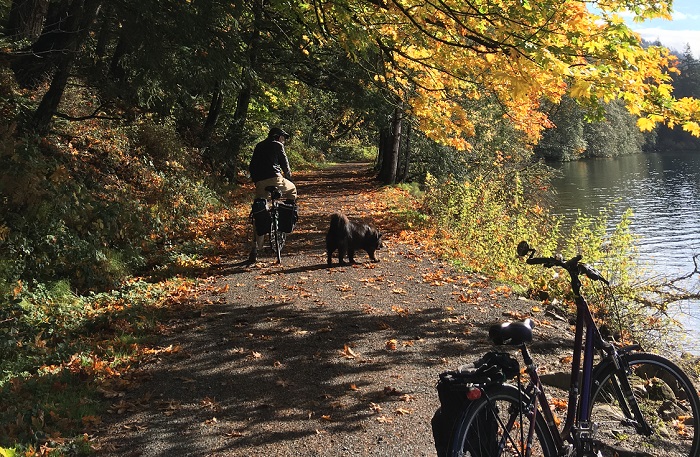 In which Thor, Bear dog, and I seize the day as sun breaks through our Pacific Northwest autumn deluges.
"Carpe Diem" — "Seize the day" — we have been exhorted at least since the Roman poet Horace and the Greek philosopher Epicurus. Countless poets since have reminded us that life is fleeting, and pleasures must be enjoyed before they vanish. Andrew Marvel, in "To His Coy Mistress," used this persuasion: "Now let us sport us while we may…." Living in the rainy Pacific Northwest, Thor and I take that advice to heart, as sun breaks can be scarce from fall through gloomy gray winter. So when an afternoon of glorious sunshine recently broke out after weeks of wind and rainstorms — including deluges from "atmospheric rivers" off the Pacific — we loaded up Bear dog and our bikes and headed for one of our favorite rides along the shore of nearby Lake Whatcom.
Along the way, we delighted in the blaze of big-leaf maples still hanging onto their leaves.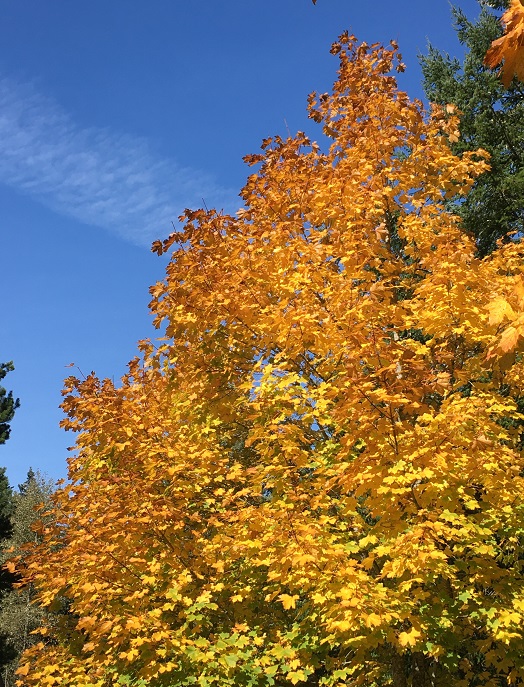 Our moss-covered giants could have inspired Tolkien's Ent trees in The Lord of the Rings.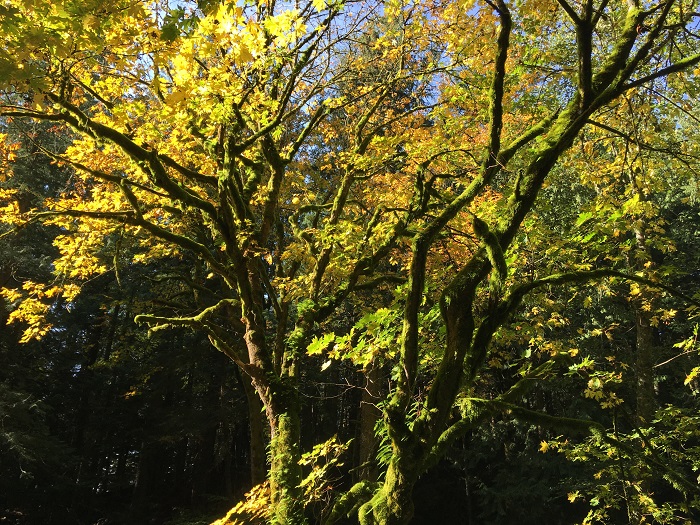 Because our Book View Cafe website server at this point may not handle many photos, I'm posting my complete blog entries on my own author website at www.sarastamey.com, where you can finish this episode and enjoy all the accompanying photos. Please continue reading by clicking on the link below, then you can return here (use "go back" arrow above) to comment, ask questions, or join a conversation. We love your responses!
https://sarastamey.com/another-day-seized/
*****
You will find The Rambling Writer's blog posts here every Saturday. Sara's latest novel from Book
View Café is Pause, a First Place winner of the Chanticleer Somerset Award and a Pulpwood Queens International Book Club selection. "A must-read novel about friendship, love, and killer hot flashes." (Mindy Klasky).  Sign up for her quarterly email newsletter at www.sarastamey.com