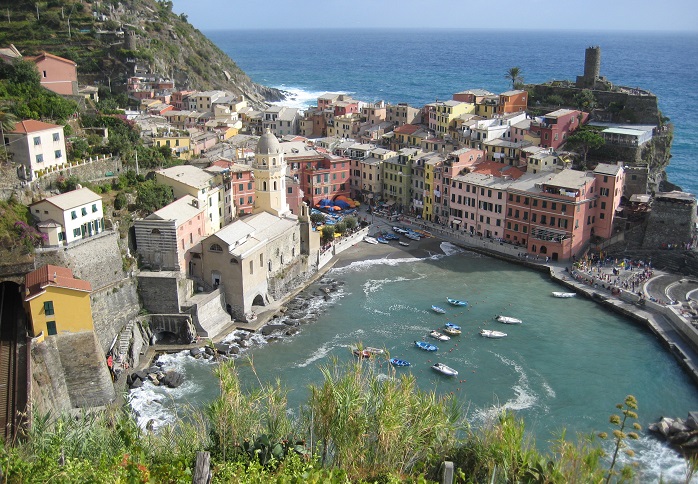 Your retro Virtual Italy Vacation continues our hike along the cliffside "Blue Path" to Vernazza, site of disastrous 2011 mudslides.
NOTE: Since European travel is still a no-go with the pandemic continuing, I'm continuing my blog series offering a virtual vacation and time-travel to my first big trip with Thor in 2008. Italy! After starting with highlight photos posted here on Saturday, Jan. 30, I'll now resume every week (after the blogging detour in real time to Hawaii). Join us in Rome, Florence, Cinque Terre, Venice, and Milan. Buon viaggio!
Last week Thor and I had reached one of the clifftops along the winding cliffside trail, where we could look down at our destination — the fishing village of Vernazza.
A reminder from last week: The Sentiero Azzurro (Blue Path) along the rugged coast, linking the isolated five villages of the Cinque Terre, dates from the 12th to 13th centuries in the early Republic of Genoa. It was originally a mule track, the only link between the villages. Thor and I were lucky to hike sections of it on our 2008 trip, as a catastrophic storm and rains in 2011 severely damaged the route and two villages, and some sections of the trail remain closed today.
The agricultural terraces, cultivated with grapes and olive and lemon trees among other crops, were built up since Medieval times and also served to mitigate heavy rainfall runoff. Since around the 1950s, many farmers stopped tending the crops and terraces as they left for jobs in cities, and many of the terraces fell into neglect. These ones appeared to remain in good condition: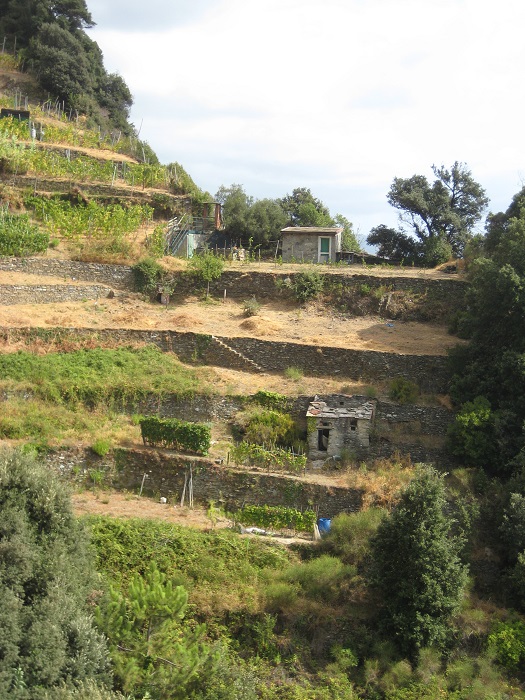 Because our Book View Cafe website server at this point may not handle many photos, I'm posting my complete blog entries on my own author website at www.sarastamey.com, where you can finish this episode and enjoy all the accompanying photos. Please continue reading by clicking on the link below, then you can return here (use "go back" arrow above) to comment, ask questions, or join a conversation. We love your responses!
https://sarastamey.com/the-rambling-writers-italy-part-19-cinque-terres-sentiero-azzurro-to-vernazza/
*****
You will find The Rambling Writer's blog posts here every Saturday. Sara's latest novel from
Book View Cafe is available in print and ebook: The Ariadne Connection.  It's a near-future thriller set in the Greek islands. "Technology triggers a deadly new plague. Can a healer find the cure?"  The novel has received the Chanticleer Global Thriller Grand Prize and the Cygnus Award for Speculative Fiction. Sara has recently returned from another research trip in Greece and is back at work on the sequel, The Ariadne Disconnect. Sign up for her quarterly email newsletter at www.sarastamey.com