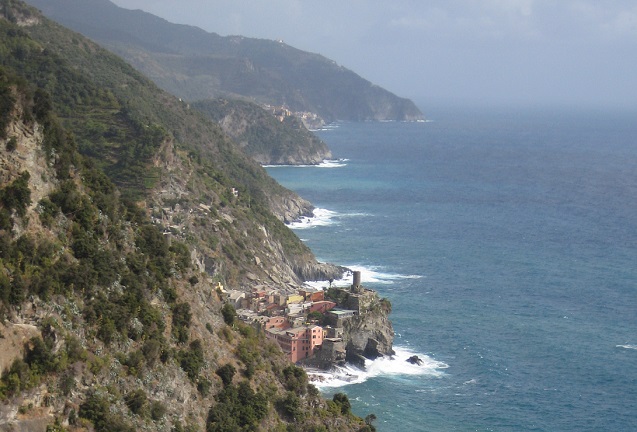 Your virtual Italy vacation continues as Thor and I take the train from Florence and settle in among the villages clinging to the cliffs of Cinque Terre.
NOTE: Since European travel is still a no-go with the pandemic continuing, I'm continuing my blog series offering a virtual vacation and time-travel to my first big trip with Thor in 2008. Italy! After starting with highlight photos posted here on Saturday, Jan. 30, I'll now resume every week (after some blogging detours in real time to Hawaii and the mountains). Join us in Rome, Florence, Cinque Terre, Venice, and Milan. Buon viaggio!
Right now I'm sublimating because Thor and I had to cancel our scheduled September trip to our beloved Greek islands (for the second year in a row), due to the Covid-19 surges and my doc's advice. So I'll swim those magical clear blue seas in my dreams, while enjoying these trips down memory lane. I hope they help scratch some of your itches, too! So.. we last checked in on our final day among the amazing artwork of Florence. We navigated the confusions of the train station (no real route numbers) to get on the correct train to Cinque Terre in the Ligurian region of northwest Italy. Along the way, we passed mountains where the famous Carrara marble is still being mined.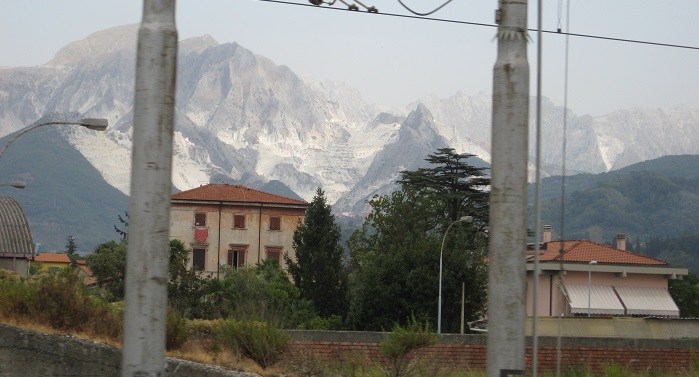 The luminous marble was the favorite of the Renaissance master sculptors, including Michelangelo. As a young man, he rode on horseback into the Tuscan mountains to select quality stone and work alongside the excavators to free and transport his marble slabs. His famous works "Pieta" and "David" are Carrara marble, and I can testify that they really seem to glow with an inner light.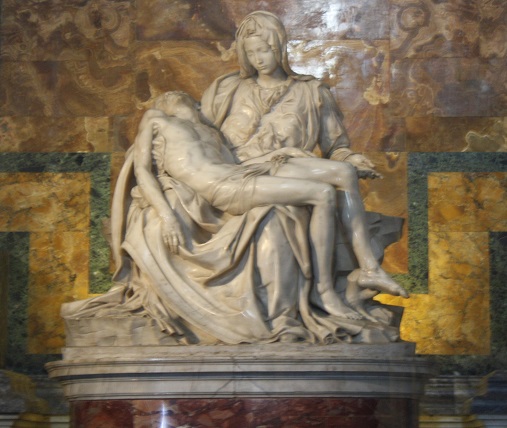 Because our Book View Cafe website server at this point may not handle many photos, I'm posting my complete blog entries on my own author website at www.sarastamey.com, where you can finish this episode and enjoy all the accompanying photos. Please continue reading by clicking on the link below, then you can return here (use "go back" arrow above) to comment, ask questions, or join a conversation. We love your responses!
https://sarastamey.com/the-rambling-writers-italy-part-17-riomaggiore-in-cinque-terre/
*****
You will find The Rambling Writer's blog posts here every Saturday. Sara's latest novel from
Book View Cafe is available in print and ebook: The Ariadne Connection.  It's a near-future thriller set in the Greek islands. "Technology triggers a deadly new plague. Can a healer find the cure?"  The novel has received the Chanticleer Global Thriller Grand Prize and the Cygnus Award for Speculative Fiction. Sara has recently returned from another research trip in Greece and is back at work on the sequel, The Ariadne Disconnect. Sign up for her quarterly email newsletter at www.sarastamey.com