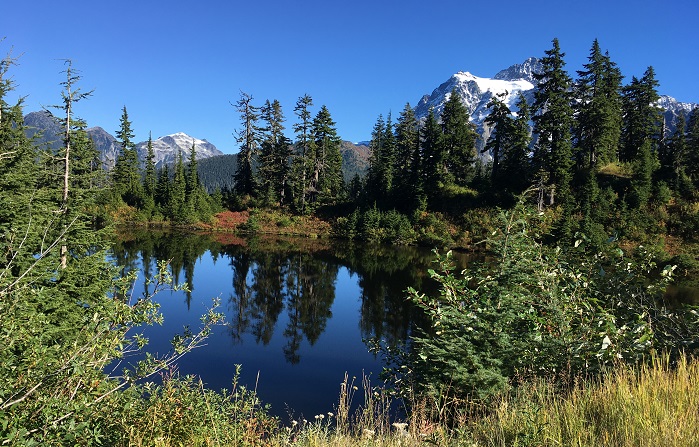 After a year of way too many recuperation and rehab programs, Thor, Bear dog, and I return to the Mt. Baker Wilderness for a hike to Bagley Lakes.
NOTE: I will resume my Virtual Italy Vacation series, perhaps alternating with more outdoor excursions. Stay tuned!
I think at this point we're all wondering what Twilight Zone unreality we've wandered into with the pandemic and other "crazy life" ordeals like my lung cancer surgery. For Thor, Bear dog, and me it's been a particularly skewed scenario without our beloved hikes or snowshoeing in the nearby Cascade mountains. He's finding a hiking solution with a prosthetic device that provides spring to compensate for his calf nerve damage, and after three years and various medical modalities, my torn hip tendon has finally healed. Now my P.T. program is designed to get me back in action. This week, with a beautiful day beckoning us to the mountains, we decided we needed to celebrate my one-year post-op clear lung scan by heading for an easy hike below Mt. Baker, the Bagley Lakes trail. (It only involved four times the distance I'm "allowed" at this phase.) I figured the healing air of the mountains, and dips in the "invigorating" (Thor says "freezing-ass") alpine lake, would compensate for maybe overdoing it a bit….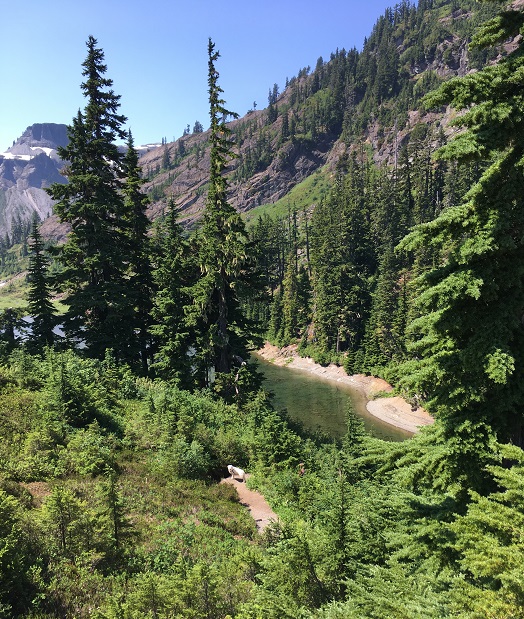 A fairly easy trail, with lots of the columnar andesite formed by volcanic Mt. Baker (ahead but hidden behind Table Mt.) during some of its eruptions.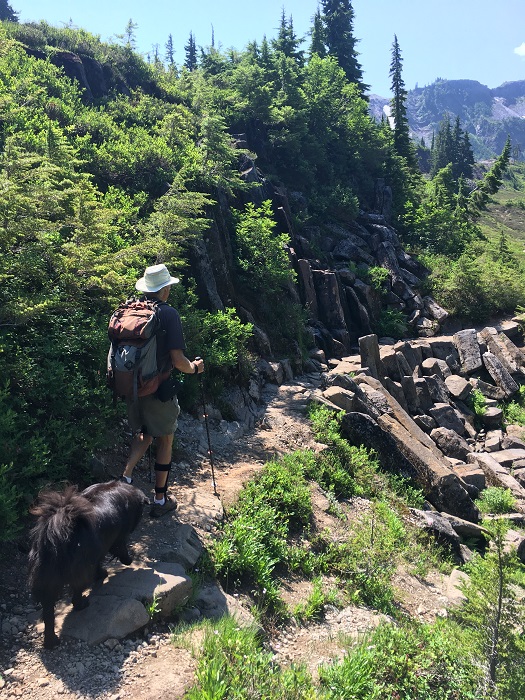 Because our Book View Cafe website server at this point may not handle many photos, I'm posting my complete blog entries on my own author website at www.sarastamey.com, where you can finish this episode and enjoy all the accompanying photos. Please continue reading by clicking on the link below, then you can return here (use "go back" arrow above) to comment, ask questions, or join a conversation. We love your responses!
https://sarastamey.com/the-rambling-writer-returns-to-the-mountains-2/
*****
You will find The Rambling Writer's blog posts here every Saturday. Sara's latest novel from
Book View Cafe is available in print and ebook: The Ariadne Connection.  It's a near-future thriller set in the Greek islands. "Technology triggers a deadly new plague. Can a healer find the cure?"  The novel has received the Chanticleer Global Thriller Grand Prize and the Cygnus Award for Speculative Fiction. Sara has recently returned from another research trip in Greece and is back at work on the sequel, The Ariadne Disconnect. Sign up for her quarterly email newsletter at www.sarastamey.com