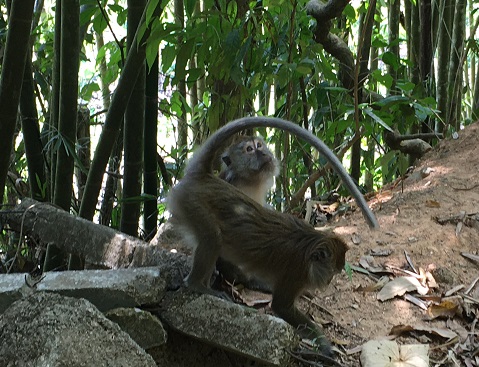 Continuing your virtual vacation with Thor and me, join us in a hike through the oldest evergreen rainforest in the world.
NOTE: Due to a lot of "Life" this week, This is a Rambling Writer Rerun. We'll return to Florence, Italy, in next week's post.
"And now for something completely different." Thor and I made our first trip to Asia — the beautiful country of Thailand.  We were lucky to squeak through the pandemic flight closures in January/February of 2020 as we returned from our three-week trip. Since more travel has now become a distant prospect, we hope you'll take a virtual vacation with us in the following weeks. (This blog series started on June 13, 2020.)
If you've been following this blog series, you know that Thor and I were staying in a treehouse in Our Jungle House on the edge of the Khao Sok National Park, and visited an elephant refuge nearby. The next day, we hopped onto a "taxi" — a pickup truck outfitted with wooden benches — for a short ride to the park entrance. The park covers 285 square miles and rises to a height of 3150 feet at limestone peaks. It shelters wild elephants, tigers, bears, boars, and monkeys, along with 188 species of birds and countless insects. (Surprisingly, we weren't bothered by mosquitoes there.)
We were welcomed at the entrance by a replica of the largest flower in the world at 31″ diameter, which blooms here once a year: Rafflesia kerri. We didn't see an actual bloom, but since they apparently have a nasty, fetid odor that attracts pollinating flies, we were content with the replica: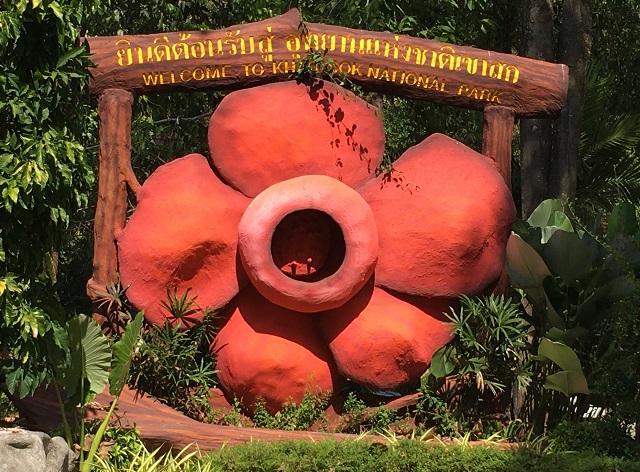 The main trail enters through an impressive bamboo forest. This part of the park borders tourist development, so there's a barbed-wire fence until you get deeper into the park. We saw some locals slipping through gaps in the fence, and we figured they had a right to enjoy the park and a cooling river swim without paying the entrance fee.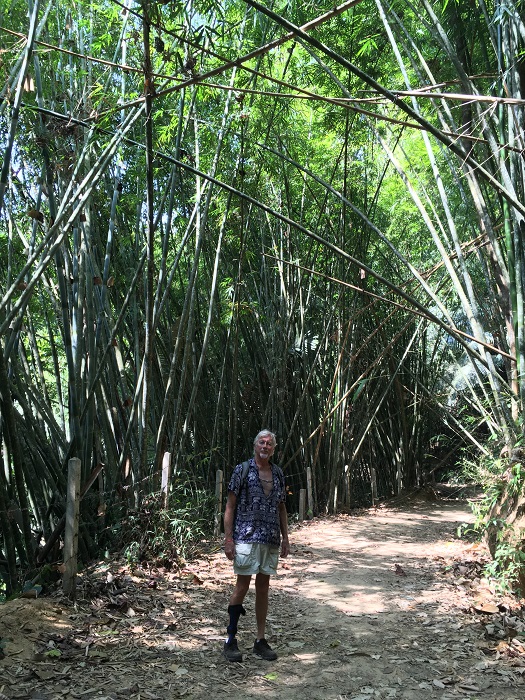 Because our Book View Cafe website server at this point may not handle many photos, I'm posting my complete blog entries on my own author website at www.sarastamey.com, where you can finish this episode and enjoy all the accompanying photos. Please continue reading by clicking on the link below, then you can return here (use "go back" arrow above) to comment, ask questions, or join a conversation. We love your responses!
https://sarastamey.com/the-rambling-writer-visits-thailand-part-14-khao-sok-national-park/
*****
You will find The Rambling Writer's blog posts here every Saturday. Sara's latest novel from Book
View Café is available in print and ebook: The Ariadne Connection. It's a near-future thriller set in the Greek islands. "Technology triggers a deadly new plague. Can a healer find the cure?"  The novel has received the Chanticleer Global Thriller Grand Prize and the Cygnus Award for Speculative Fiction. Sara has recently returned from another research trip in Greece and is back at work on the sequel, The Ariadne Disconnect. Sign up for her quarterly email newsletter at www.sarastamey.com