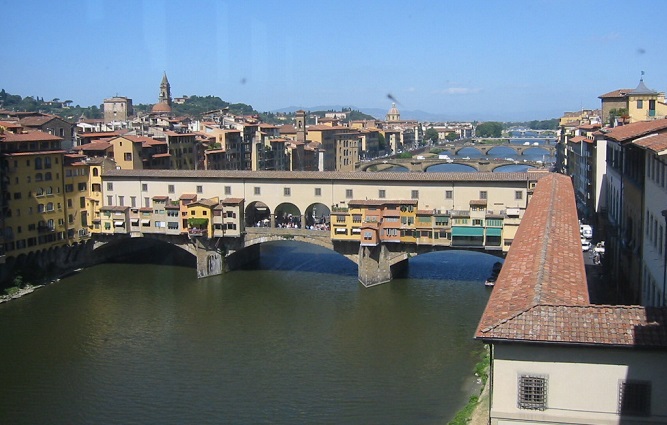 Your Virtual Italy Vacation continues with local color as Thor and I ramble around Florence.
NOTE: Since European travel is still tenuous with the pandemic continuing, I'm continuing my blog series offering a virtual vacation and time-travel to my first big trip with Thor in 2008. Italy! After starting with highlight photos posted here on Saturday, Jan. 30, I'll now resume every week (after the blogging detour in real time to Hawaii). Join us in Rome, Florence, Cinque Terre, Venice, and Milan. Buon viaggio!
The Arno River is the artery of Florence, which has been Italy's heart of art and culture since the Renaissance. So we'll start our quirky meander with the river and its bridges. The Ponte Vecchio with its arcade of shops is the oldest surviving bridge here, built in 1345. Bridges over the Arno date from ancient Roman times, of course rebuilt over the centuries. The Ponte Vecchio is the only old bridge to survive bombing by the Germans in 1944, during WWII, when they also destroyed many other historic landmarks of the city. The German invaders were desperately trying to hold the city, but American bombers arrived later in the year to execute a daring plan. They had targeted the train station crucial to the Germans, but carefully mapped the city to show the pilots all the priceless historical monuments and buildings they were determined to save.
The American commander told his young pilots, "We've been hitting targets around Florence for a long time, but we haven't actually hit the city itself because approximately ten percent of the world's art treasures are located right here in Florence. We've got to be very careful." The precision bombing runs, some very near such precious sites as the Duomo, were an amazing success, with every bomb hitting on target and sparing surrounding sites.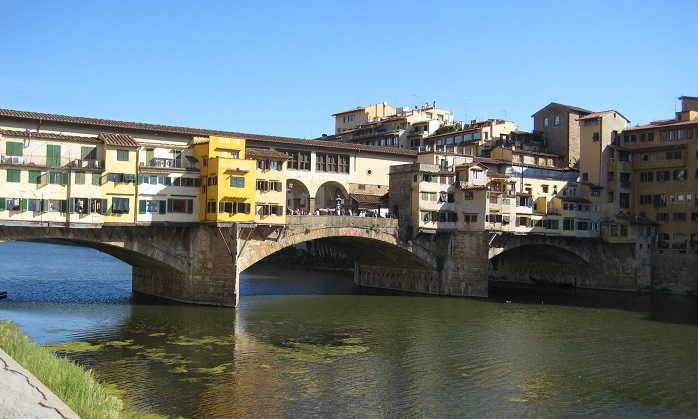 A fairly recent tradition of "Love Locks," has encouraged lovers to scratch their initials on a lock and secure it to the Ponte Vecchio. Officials constantly cut off the clusters of locks, and the ardent lovers can face a hefty fine, but the practice continues: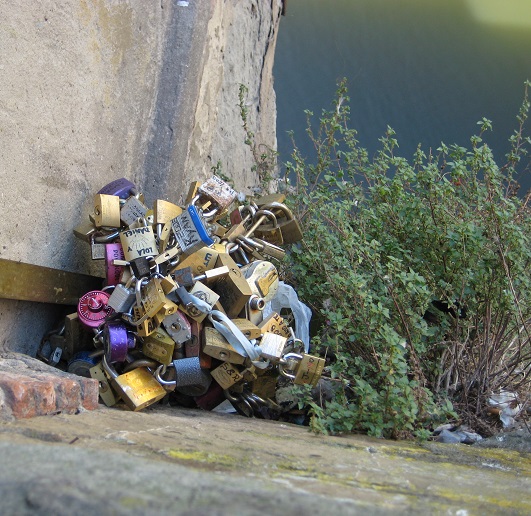 Because our Book View Cafe website server at this point may not handle many photos, I'm posting my complete blog entries on my own author website at www.sarastamey.com, where you can finish this episode and enjoy all the accompanying photos. Please continue reading by clicking on the link below, then you can return here (use "go back" arrow above) to comment, ask questions, or join a conversation. We love your responses!
https://sarastamey.com/the-rambling-writers-italy-part-15-out-and-about-in-florence/
*****
You will find The Rambling Writer's blog posts here every Saturday. Sara's latest novel from
Book View Cafe is available in print and ebook: The Ariadne Connection.  It's a near-future thriller set in the Greek islands. "Technology triggers a deadly new plague. Can a healer find the cure?"  The novel has received the Chanticleer Global Thriller Grand Prize and the Cygnus Award for Speculative Fiction. Sara has recently returned from another research trip in Greece and is back at work on the sequel, The Ariadne Disconnect. Sign up for her quarterly email newsletter at www.sarastamey.com