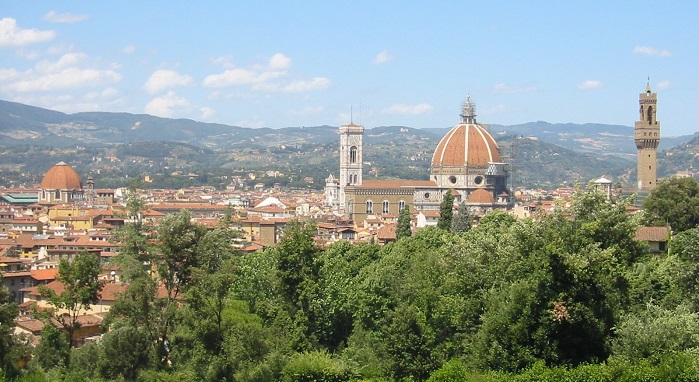 Your virtual Italy vacation continues and Thor and I visit the Florence Duomo and two versions of The Last Judgement.
NOTE: Since European travel is still tenuous with the pandemic continuing, I'm continuing my blog series offering a virtual vacation and time-travel to my first big trip with Thor in 2008. Italy! After starting with highlight photos posted here on Saturday, Jan. 30, I'll now resume every week (after the blogging detour in real time to Hawaii). Join us in Rome, Florence, Cinque Terre, Venice, and Milan. Buon viaggio!
The Piazza del Duomo offers the monumental Cathedral of Santa Maria del Fiore, commonly called the Florence Duomo for the distinctive dome. The cathedral is the 4th largest Christian church in the world, and it is immense, able to hold 20,000 people inside.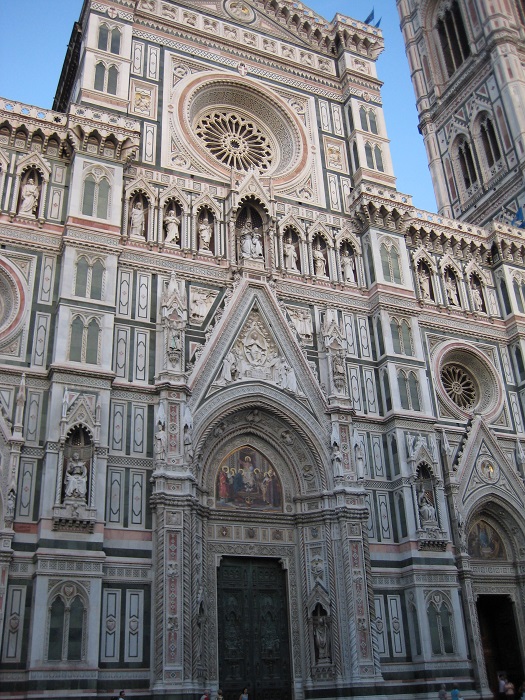 Building began in 1296, on the site of a much earlier church, and the cathedral was consecrated in 1436 by Pope Eugenius IV. Several phases and styles over the centuries resulted in a Gothic Cathedral with Renaissance additions, finally furnished with a new Gothic Revival facade in the 19th century. The elaborate facade is beautifully gleaming with marble in tones of green, pink, and white, dedicated to the Mother of Christ. The famous dome designed by Filippo Brunelleschi was added in the 15th century. It was an innovative design, the first large octagonal dome erected without scaffolding, drawing on the ancient Roman Pantheon for structural inspiration. There are two layers, the outer one of brick, with reinforcing ribs and wooden "chains" supporting and separating the two layers.
Because our Book View Cafe website server at this point may not handle many photos, I'm posting my complete blog entries on my own author website at www.sarastamey.com, where you can finish this episode and enjoy all the accompanying photos. Please continue reading by clicking on the link below, then you can return here (use "go back" arrow above) to comment, ask questions, or join a conversation. We love your responses!
https://sarastamey.com/the-rambling-writers-italy-part-14-florence-duomo-and-the-last-judgement/
*****
You will find The Rambling Writer's blog posts here every Saturday. Sara's latest novel from
Book View Cafe is available in print and ebook: The Ariadne Connection.  It's a near-future thriller set in the Greek islands. "Technology triggers a deadly new plague. Can a healer find the cure?"  The novel has received the Chanticleer Global Thriller Grand Prize and the Cygnus Award for Speculative Fiction. Sara has recently returned from another research trip in Greece and is back at work on the sequel, The Ariadne Disconnect. Sign up for her quarterly email newsletter at www.sarastamey.com