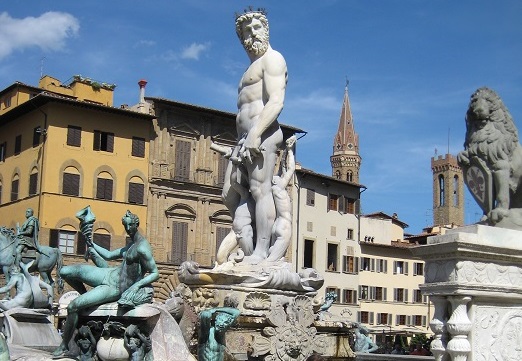 Your virtual Italy vacation continues as Thor and I admire the magnificent statuary in Florence's "public living room."
NOTE: Since European travel is still tenuous with the pandemic continuing, I'm continuing my blog series offering a virtual vacation and time-travel to my first big trip with Thor in 2008. Italy! After starting with highlight photos posted here on Saturday, Jan. 30, I'll now resume every week (after the blogging detour in real time to Hawaii). Join us in Rome, Florence, Cinque Terre, Venice, and Milan. Buon viaggio!
I was eager to follow in the footsteps of Miss Honeychurch in "A Room with a View," as she gazed in astonishment at the heroic nude statues crowding this central piazza where locals and tourists alike promenade. (If you haven't seen the film, go forth and do so — wonderful characters and British humor abound.) The expansive square fronts the Palazza Vecchio/Palazza della Signoria, the town hall of the city built in the 14th century. Its Loggia dei Lanzi, with three wide archways open to the square, houses an amazing collection of heroic-sized sculptures.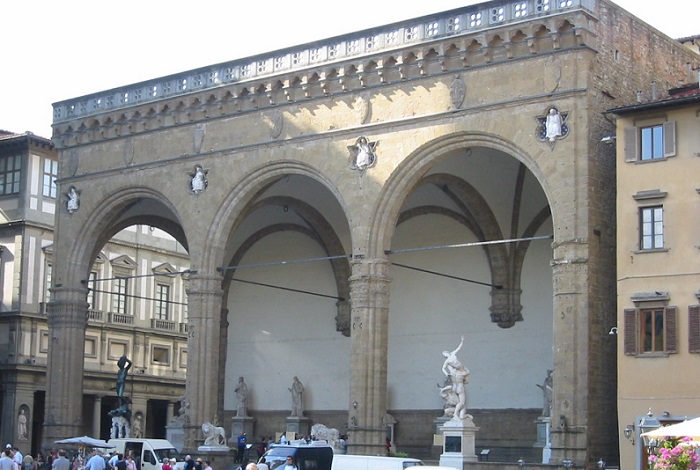 The piazza was also the central square of Forentia, a Roman town. When the piazza was repaved in the 1980s, evidence of the Romans was unearthed, including a huge basilica. Also discovered were Neolithic remains, so it's been a popular place for a very long time. Ironically, in contrast to the celebration of Renaissance art here, it's also the site of the Bonfire of the Vanities, where the rogue friar Giolamo Savonarola and his followers burned a huge pile of precious books, fripperies, and gaming tables in his campaign to purify corruption. Savonarola warned of apocalypse, ousted the ruling Medicis, and established a strict theocracy in Florence. Finally put on trial, he himself was hanged and burned here in 1498, on the spot memorialized by this plaque:
Because our Book View Cafe website server at this point may not handle many photos, I'm posting my complete blog entries on my own author website at www.sarastamey.com, where you can finish this episode and enjoy all the accompanying photos. Please continue reading by clicking on the link below, then you can return here (use "go back" arrow above) to comment, ask questions, or join a conversation. We love your responses!
https://sarastamey.com/the-rambling-writers-italy-part-13-florence-piazza-della-signoria/
*****
You will find The Rambling Writer's blog posts here every Saturday. Sara's latest novel from
Book View Cafe is available in print and ebook: The Ariadne Connection.  It's a near-future thriller set in the Greek islands. "Technology triggers a deadly new plague. Can a healer find the cure?"  The novel has received the Chanticleer Global Thriller Grand Prize and the Cygnus Award for Speculative Fiction. Sara has recently returned from another research trip in Greece and is back at work on the sequel, The Ariadne Disconnect. Sign up for her quarterly email newsletter at www.sarastamey.com