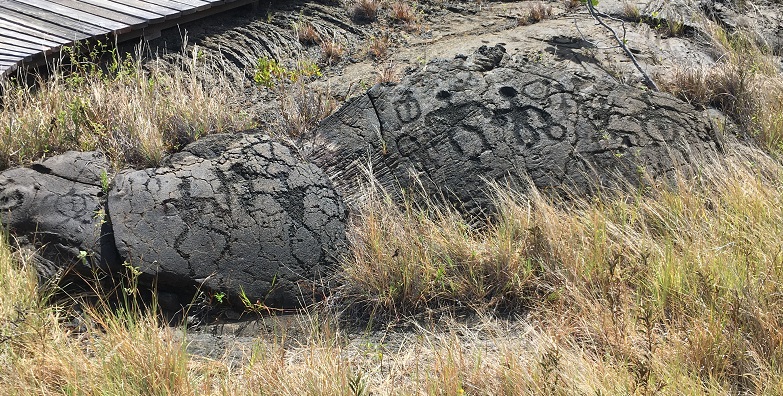 Join Thor and me as we walk among thousands of petroglyphs carved in lava beds by native Hawaiians.
NOTE: After way too many months without travel, Thor insisted on an R&R escape to Hawaii this April. He'd been keeping on eye on the very careful Covid-19 precautions in the islands, and the testing required before flying there. And now that we're both fully vaccinated, we took the plunge – literally, for some snorkeling in the healing sea, as well as exploring the Big Island and Kauai. After this detour (series started April 24), I promise I'll finish up my Virtual Italy Vacation series soon!
I am a big fan of petroglyphs — they figured prominently in my Caribbean suspense novel Islands, which happens to be on half-price special this month https://bookviewcafe.com/bookstore/book/islands/ — and I've gone out of my way to visit them whenever I've had a chance. During my scuba divemaster sojourns in the Caribbean, I heard suggestions that these mysterious, usually undated carvings in stone were connected to spiritual "power spots." When I worked as divemaster in the Honduran Bay Islands, there was a large, spiral-carved glyph behind my shoreside cottage. Since the island had no roads, locals got around in dinghies, following a predictable route through the shallow corals inside the reef. Almost without fail, the motors would cough and die as the boats passed the glyph. Hmmm. But I digress….
I couldn't miss the chance to see some of the roughly 23,000 petroglyphs the native Hawaiians had carved in a 400-700 year-old lava bed below the Kilauea volcano that we visited in last week's post. Luckily, the new eruption of 2018 had spared these historic petroglyphs! And this friendly Nene — one of the protected endemic birds — urged us to drive just a bit farther to see the glyphs.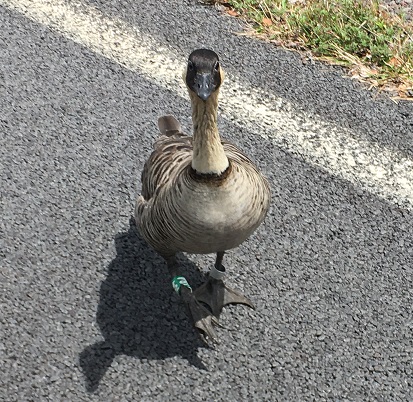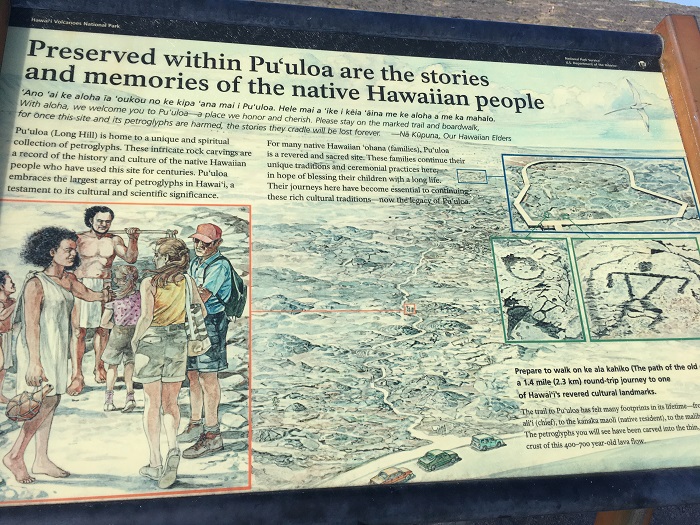 Because our Book View Cafe website server at this point may not handle many photos, I'm posting my complete blog entries on my own author website at www.sarastamey.com, where you can finish this episode and enjoy all the accompanying photos. Please continue reading by clicking on the link below, then you can return here (use "go back" arrow above) to comment, ask questions, or join a conversation. We love your responses!
https://sarastamey.com/the-rambling-writer-visits-the-big-island-hawaii-part-8-petroglyphs/
*****
You will find The Rambling Writer's blog posts here every Saturday. Sara's latest novel from
Book View Cafe is available in print and ebook: The Ariadne Connection.  It's a near-future thriller set in the Greek islands. "Technology triggers a deadly new plague. Can a healer find the cure?"  The novel has received the Chanticleer Global Thriller Grand Prize and the Cygnus Award for Speculative Fiction. Sara has recently returned from another research trip in Greece and is back at work on the sequel, The Ariadne Disconnect. Sign up for her quarterly email newsletter at www.sarastamey.com