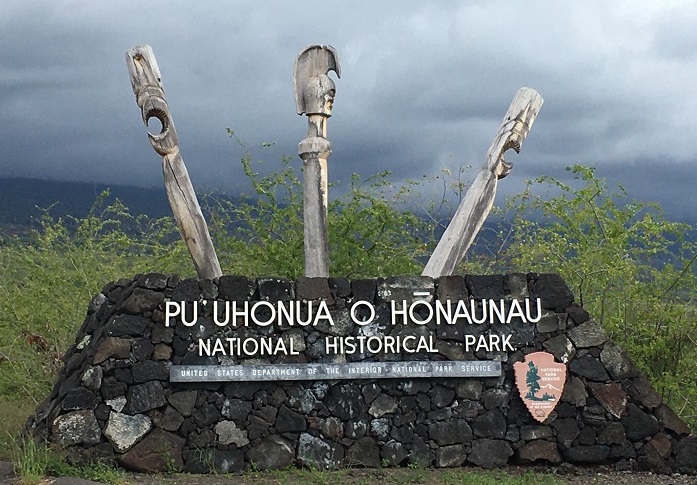 Join Thor and me as we learn about ancient Hawaiians at a fascinating reconstruction site.
NOTE: After way too many months without travel, Thor insisted on an R&R escape to Hawaii this April. He'd been keeping on eye on the very careful Covid-19 precautions in the islands, and the testing required before flying there. And now that we're both fully vaccinated, we took the plunge – literally, for some snorkeling in the healing sea, as well as exploring the Big Island and Kauai. After this detour, I promise I'll finish up my Virtual Italy Vacation series soon!
This was our first visit to the Big Island, and Thor and I continued to be impressed by the raw power of the "new" landscape, and a stronger sense of native history than we'd encountered on other islands. It really felt like we were visiting a foreign country, and it was wonderful to be able to travel again and explore the cultural roots. Polynesians arrived in the islands from 900-1100 AD, the first colonists, who brought plants, animals, and supplies, expanding the limited endemic species in this landscape of lava rock.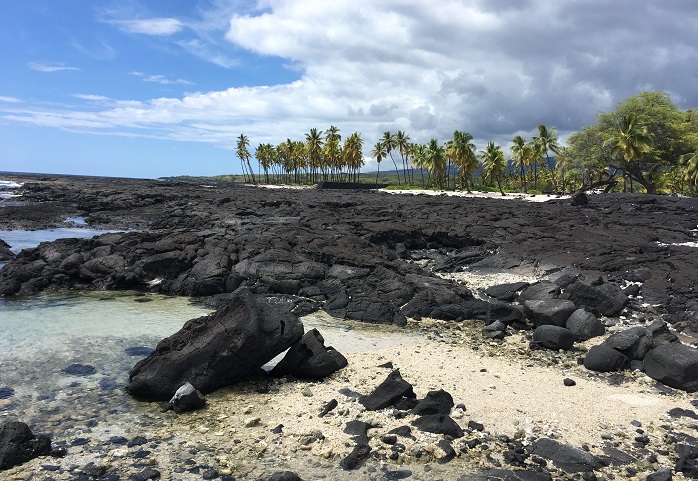 By 1100-1400, chiefs and aristocrats (the ali'i) had been established to rule over the commoners, and they initiated more voyages back and forth between Hawaii and Polynesia/Tahiti. New traditions were established, including human sacrifice. Strict rules of behavior, defining kapu (taboo) were laid out. If anyone violated the rules — such as a woman eating a banana, a commoner letting his/her shadow touch an ali'i, or a woman eating with a man — they were sentenced to death. The only reprieve was to outrun the pursuit and swim to one of many places of refuge (pu'uhonua). If the transgressor made it to the refuge, a priest would provide absolution and allow the person to return to normal life. The park has restored this ancient place of refuge, the site of a heiau (temple) on the cove shore:
Because our Book View Cafe website server at this point may not handle many photos, I'm posting my complete blog entries on my own author website at www.sarastamey.com, where you can finish this episode and enjoy all the accompanying photos. Please continue reading by clicking on the link below, then you can return here (use "go back" arrow above) to comment, ask questions, or join a conversation. We love your responses!
https://sarastamey.com/the-rambling-writer-visits-the-big-island-hawaii-part-3-place-of-refuge/
*****
You will find The Rambling Writer's blog posts here every Saturday. Sara's latest novel from
Book View Cafe is available in print and ebook: The Ariadne Connection.  It's a near-future thriller set in the Greek islands. "Technology triggers a deadly new plague. Can a healer find the cure?"  The novel has received the Chanticleer Global Thriller Grand Prize and the Cygnus Award for Speculative Fiction. Sara has recently returned from another research trip in Greece and is back at work on the sequel, The Ariadne Disconnect. Sign up for her quarterly email newsletter at www.sarastamey.com