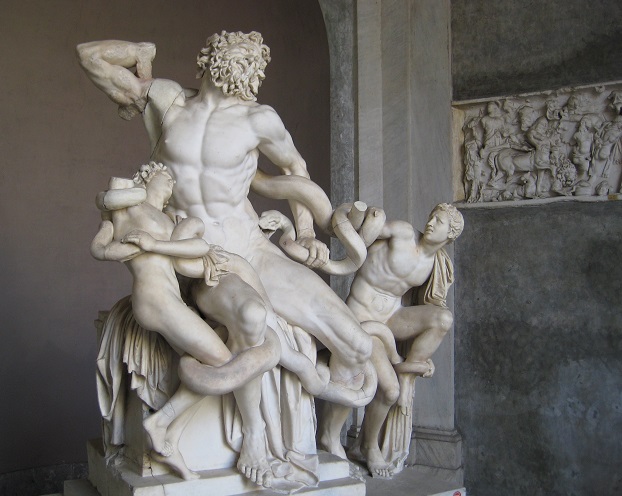 Your virtual Italy vacation continues with Thor and me as we hit highlights of the magnificent collections in the Vatican Museums.
NOTE: Since travel is still on hold with the pandemic continuing, I've started a new blog series offering a virtual vacation and time-travel to my first big trip with Thor in 2008. Italy! Starting with highlight photos posted here on Saturday, Jan. 30, I'll continue every week. Join us in Rome, Florence, Cinque Terre, Venice, and Milan. Buon viaggio!
The Vatican Museums are housed in several interconnected structures that were built as papal palaces over several centuries. The popes had collected an amazing array of important secular and religious art, and the reorganization as a series of museums open for viewing finally happened in the 18th century. I had two "must-see" destinations here — the astounding 1st-century AD marble carving of the Laocoon (above, more later), and the mind-boggling artistry of the fresco paintings of the Sistine Chapel by Michelangelo. I regret that Thor and I didn't have time to spend a full day here, which the collections deserve. And I really regret having somehow lost my photos of the trip, but Thor took enough to show the amazing variety. We'll just have to return some day, since of course we did toss our coins into the Trevi Fountain.
Here we go: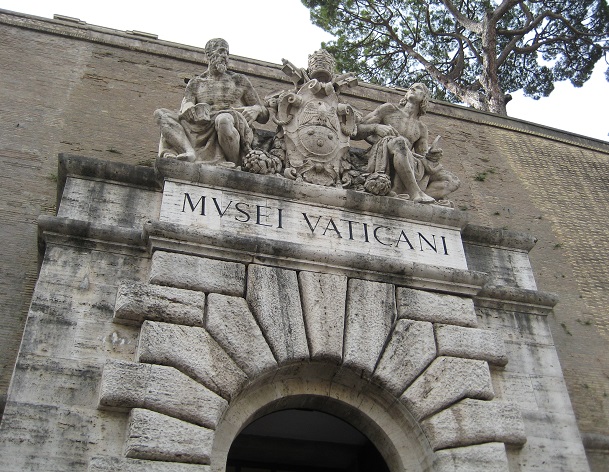 Because our Book View Cafe website server at this point may not handle many photos, I'm posting my complete blog entries on my own author website at www.sarastamey.com, where you can finish this episode and enjoy all the accompanying photos. Please continue reading by clicking on the link below, then you can return here (use "go back" arrow above) to comment, ask questions, or join a conversation. We love your responses!
https://sarastamey.com/the-rambling-writers-italy-part-10-the-vatican-museums/
*****
You will find The Rambling Writer's blog posts here every Saturday. Sara's latest novel from
Book View Cafe is available in print and ebook: The Ariadne Connection.  It's a near-future thriller set in the Greek islands. "Technology triggers a deadly new plague. Can a healer find the cure?"  The novel has received the Chanticleer Global Thriller Grand Prize and the Cygnus Award for Speculative Fiction. Sara has recently returned from another research trip in Greece and is back at work on the sequel, The Ariadne Disconnect. Sign up for her quarterly email newsletter at www.sarastamey.com