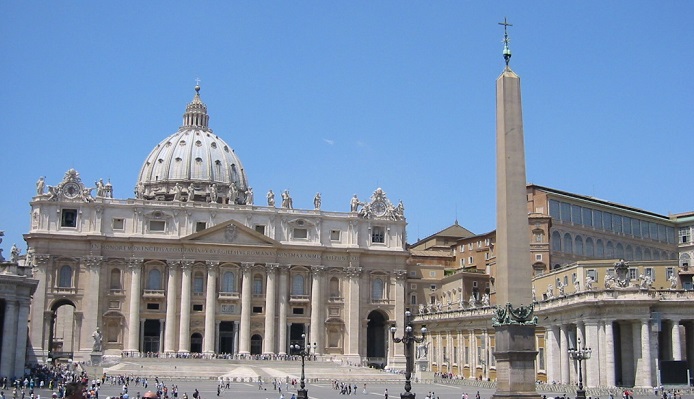 Your virtual Italy vacation continues as Thor and I visit St. Peter's Basilica at the Vatican in Rome.
NOTE: Since travel is still on hold with the pandemic continuing, I've started a new blog series offering a virtual vacation and time-travel to my first big trip with Thor in 2008. Italy! Starting with highlight photos posted here on Saturday, Jan. 30, I'll continue every week. Join us in Rome, Florence, Cinque Terre, Venice, and Milan. Buon viaggio!
St. Peter's Basilica is the largest Christian church in the world and the object of pilgrimage for believers from around the world. It's also an amazing creation of Renaissance and Baroque architects and artists, so of course Thor and I couldn't miss visiting. The entrances are protected by Swiss mercenary guards in colorful uniforms possibly designed by Michelangelo, though I will give him the benefit of the doubt.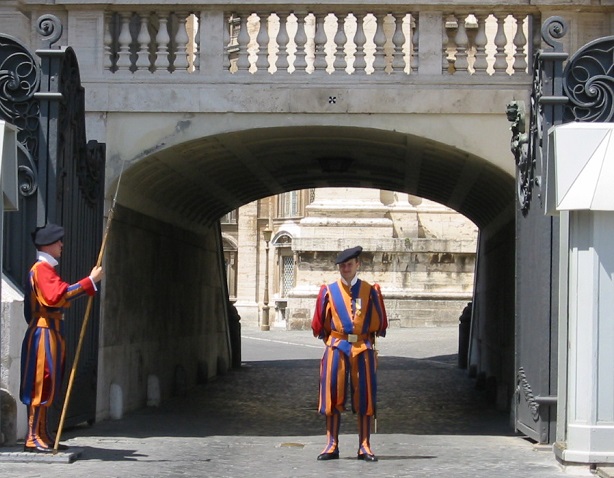 Below is a closer look at the basilica, with its iconic dome and massive portico. The expansive St. Peter's square fronting it is actually an oval, originally Nero's Circus chariot racecourse. The obelisk in the center (top photo) is 90 feet tall, solid granite weighing about 300 tons. It was erected in Egypt over 2000 years ago, and then Emperor Caligula brought it to Rome. If the stone could talk! It has overseen the slaughter of Christians during the Circus "half time entertainments," and then the torture of Protestants by the Inquisition in the building just outside the square. Dian Lorenzo Bernini, the Baroque architect, designed the new incarnation of the square with enclosing columns — 284 Doric columns,  56 feet high. The oval "square" has about same dimensions as the ancient Coliseum.
Because our Book View Cafe website server at this point may not handle many photos, I'm posting my complete blog entries on my own author website at www.sarastamey.com, where you can finish this episode and enjoy all the accompanying photos. Please continue reading by clicking on the link below, then you can return here (use "go back" arrow above) to comment, ask questions, or join a conversation. We love your responses!
https://sarastamey.com/the-rambling-writers-italy-part-9-st-peters-basilica-rome/
*****
You will find The Rambling Writer's blog posts here every Saturday. Sara's latest novel from
Book View Cafe is available in print and ebook: The Ariadne Connection.  It's a near-future thriller set in the Greek islands. "Technology triggers a deadly new plague. Can a healer find the cure?"  The novel has received the Chanticleer Global Thriller Grand Prize and the Cygnus Award for Speculative Fiction. Sara has recently returned from another research trip in Greece and is back at work on the sequel, The Ariadne Disconnect. Sign up for her quarterly email newsletter at www.sarastamey.com