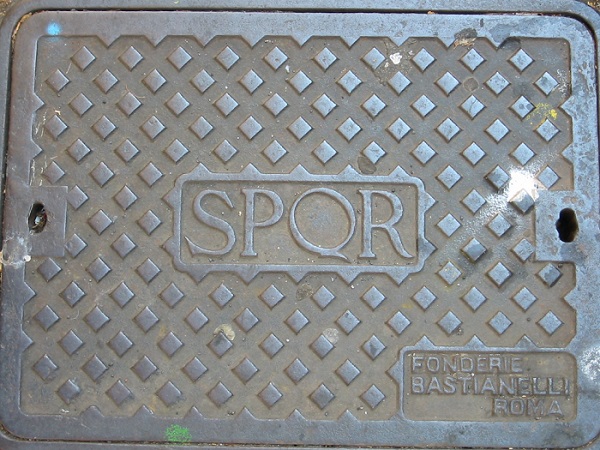 Your Italy virtual vacation continues as Thor and I ramble around Rome and ponder the evolving history and politics of the ancient abbreviation SPQR.
NOTE: Since travel is still on hold with the pandemic continuing, I've started a new blog series offering a virtual vacation and time-travel to my first big trip with Thor in 2008. Italy! Starting with highlight photos posted here on Saturday, Jan. 30, I'll continue every week. Join us in Rome, Florence, Cinque Terre, Venice, and Milan. Buon viaggio!
As Thor and I continued our walks around the historic center of Rome, we couldn't help noticing the metal "manhole" covers in the streets, bearing the familiar designation of SPQR. Images of those 50s-60s "sword and sandal" movies sprang to mind — Roman troops bearing banners and staffs with those letters. Doing a bit of research just now has taken me down a rabbit-hole, or rather manhole, of fascinating history.
Senatus Populusque Romanus — Senate and People of Rome — was an ancient Roman phrase that embraced the entire state and its two essential elements: Rome's Senate and her people. The phrase or abbreviation appeared on altars and triumphal arches. Apparently the egalitarian nature of the phrase began to shift with the reign of Augustus Caesar, when he created coins with his image on the front, and a temple or triumphal arch with SPQR on the reverse side. Some historians suggest that the new emperor sought to solidify his authoritarian approach even as he pretended to continue the former Republic's values and sharing of power with the people.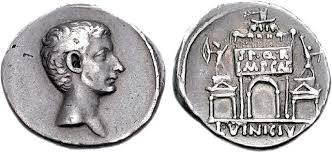 Because our Book View Cafe website server at this point may not handle many photos, I'm posting my complete blog entries on my own author website at www.sarastamey.com, where you can finish this episode and enjoy all the accompanying photos. Please continue reading by clicking on the link below, then you can return here (use "go back" arrow above) to comment, ask questions, or join a conversation. We love your responses!
https://sarastamey.com/the-rambling-writers-italy-part-6-senatus-populusque-romanus/
*****
You will find The Rambling Writer's blog posts here every Saturday. Sara's latest novel from
Book View Cafe is available in print and ebook: The Ariadne Connection.  It's a near-future thriller set in the Greek islands. "Technology triggers a deadly new plague. Can a healer find the cure?"  The novel has received the Chanticleer Global Thriller Grand Prize and the Cygnus Award for Speculative Fiction. Sara has recently returned from another research trip in Greece and is back at work on the sequel, The Ariadne Disconnect. Sign up for her quarterly email newsletter at www.sarastamey.com