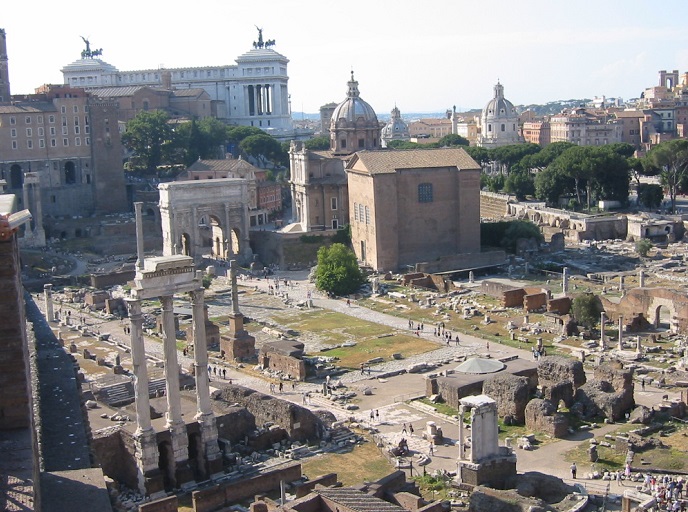 Your virtual vacation to Italy continues as Thor and I explore the ancient Roman Forum, center of political, religious, and commercial life.
NOTE: Since travel is still on hold with the pandemic continuing, I've started a new blog series offering a virtual vacation and time-travel to my first big trip with Thor in 2008. Italy! Starting with highlight photos posted here on Saturday, Jan. 30, I'll continue every week. Join us in Rome, Florence, Cinque Terre, Venice, and Milan. Buon viaggio!
After last week's visit to the Colosseum, Thor and I crossed the street to the sprawling complex of ruins of the Forum, once the heart of ancient Rome. The Roman entity, from settlement to republic to empire to decline and defeat, lasted a thousand years, from roughly 500 B.C. to 500 A.D. Julius Caesar was the first to be declared emperor and later deified. His adopted son and successor, Augustus Caesar, initiated the "Pax Romana" Roman Peace that lasted from 1 to 200 A.D., the empire stretching from England to Egypt, Turkey to Morocco.
The Forum was originally a marshy valley. When the Romans moved into the area and organized, they built a meeting place here in the 6th century B.C., as well as the first temples, to Saturn, Vulcan, Mars, and Vesta.  (As mentioned last week, the Romans coopted much of Greek culture and religion, renaming most of their deities.) The first Forum buildings were burned by invaders; building began again in the 3rd century B.C.  Around 50 B.C., Julius Caesar rebuilt much of it on grand scale. It functioned as the city's political, religious, and commercial center – and as its symbolic center for hundreds of years.
Seen from surrounding hills or in a ramble through it, the Forum looks like mostly rubble, and certainly can't compare for impressive beauty with the Athens Acropolis and its marble temples, but there's a lot of important history packed into this space.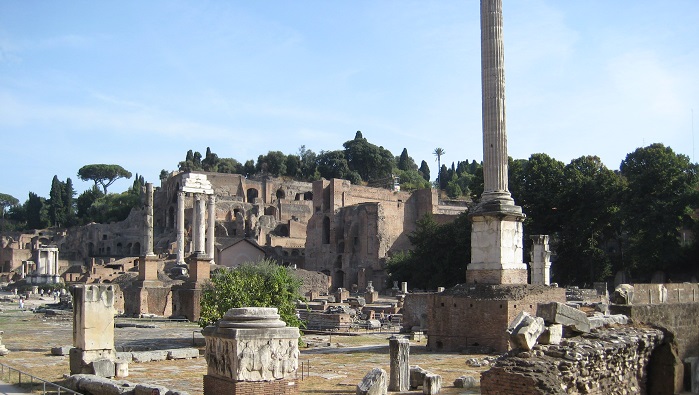 Because our Book View Cafe website server at this point may not handle many photos, I'm posting my complete blog entries on my own author website at www.sarastamey.com, where you can finish this episode and enjoy all the accompanying photos. Please continue reading by clicking on the link below, then you can return here (use "go back" arrow above) to comment, ask questions, or join a conversation. We love your responses!
https://sarastamey.com/the-rambling-writers-italy-part-3-the-roman-forum/
*****
You will find The Rambling Writer's blog posts here every Saturday. Sara's latest novel from
Book View Cafe is available in print and ebook: The Ariadne Connection.  It's a near-future thriller set in the Greek islands. "Technology triggers a deadly new plague. Can a healer find the cure?"  The novel has received the Chanticleer Global Thriller Grand Prize and the Cygnus Award for Speculative Fiction. Sara has recently returned from another research trip in Greece and is back at work on the sequel, The Ariadne Disconnect. Sign up for her quarterly email newsletter at www.sarastamey.com