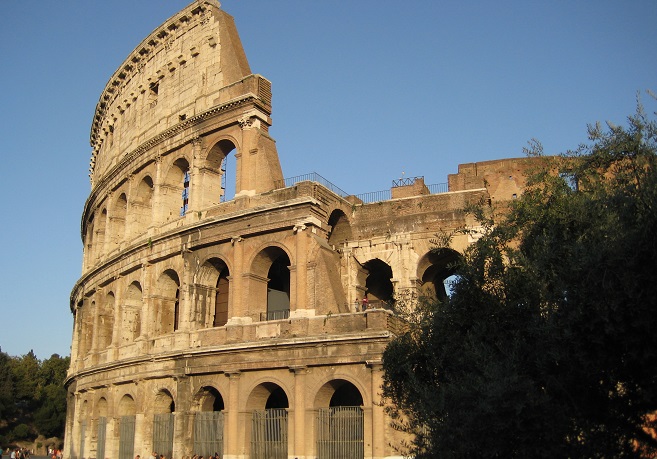 Your retro virtual vacation to Italy 2008 with Thor and me launches with a deep dive into ancient Rome and its signature Colosseum that hosted gladiatorial combat.
NOTE: Since travel is still on hold with the pandemic continuing, I've started a new blog series offering a virtual vacation and time-travel to my first big trip with Thor, in 2008. Italy! Starting with highlight photos posted here on Saturday, Jan. 30, I'll continue every week. Join us in Rome, Florence, Cinque Terre, Venice, and Milan. Buon viaggio!
Those readers who've followed my blog series of Greek travels and history know that I inhaled everything about Greece from an early age, especially the fascinating mythology. My first big overseas trip was a months-long hippie backpacking adventure through the Greek mainland and islands, followed by many extended sojourns in the Caribbean, Central and South America, and New Zealand. So when Thor and I planned our first big trip together, I was excited to see more of Europe and the rich culture of Italy. Rome, our first stop, was instant immersion in throngs of history, art, and people.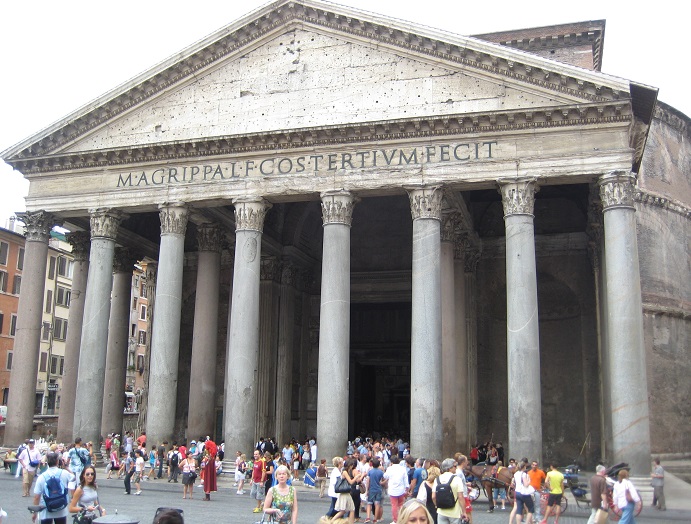 (We'll visit the amazing Pantheon, above photo, in an upcoming post.)
Aside from a youthful fascination with "sword and sandal" movies like "Demetrios and the Gladiators" and "Ben-Hur," I wasn't that interested in ancient Rome. It seemed to me that the empire-building Romans had stolen most of their culture, art, and religion from the more ancient and classy Greeks. The Romans subjugated Greece in a series of wars from around 146 BC, and by 27 BC Augustus Caesar had completed the conquest. I merely dabble in history, but from what I could see, Romans were terrific engineers and soldiers, but relied on Greek models as bases for their architecture, art, and literature. Wealthy Romans hired (or bought as slaves) educated Greeks to tutor their children. Greek became the favored language in the expansive Roman empire. It seems that the Roman poet Horace agreed with me: "Captive Greece captured her rude conqueror."
Because our Book View Cafe website server at this point may not handle many photos, I'm posting my complete blog entries on my own author website at www.sarastamey.com, where you can finish this episode and enjoy all the accompanying photos. Please continue reading by clicking on the link below, then you can return here (use "go back" arrow above) to comment, ask questions, or join a conversation. We love your responses!
https://sarastamey.com/the-rambling-writers-italy-part-2-the-roman-colosseum/
*****
You will find The Rambling Writer's blog posts here every Saturday. Sara's latest novel from
Book View Cafe is available in print and ebook: The Ariadne Connection.  It's a near-future thriller set in the Greek islands. "Technology triggers a deadly new plague. Can a healer find the cure?"  The novel has received the Chanticleer Global Thriller Grand Prize and the Cygnus Award for Speculative Fiction. Sara has recently returned from another research trip in Greece and is back at work on the sequel, The Ariadne Disconnect. Sign up for her quarterly email newsletter at www.sarastamey.com