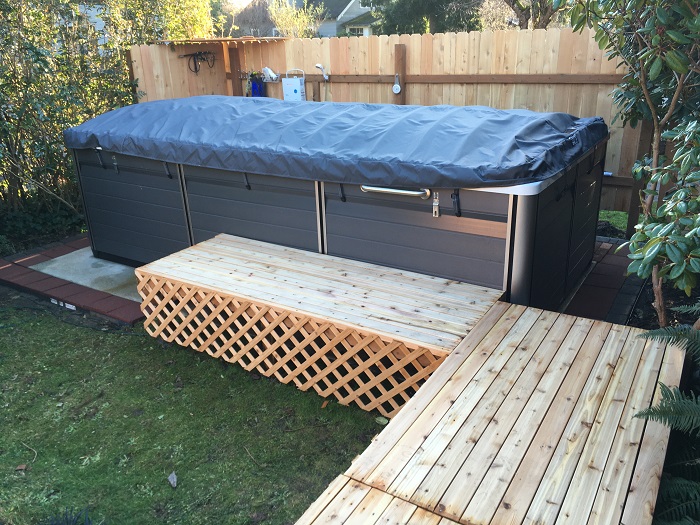 Missing our swimming during the pandemic closures, Thor and I install a "swim spa" pool and transform our front yard.
Among the many adjustments of this past year of the Covid19 pandemic, a big one for Thor and me was missing our swimming exercise at the university pool, closed since last March. And then I missed the precious narrow window of outdoor summer swimming here in Bellingham, WA, as I dealt with my cancer surgery and recovery. Since we'd had to cancel three trips last year, we decided to use that money (and a bit more) to order a swim spa that lets us swim against a current, like swimming upstream in a river. And we can heat the water to whatever temperature helps fight the damp cold of our Pacific Northwest. Ahh, blissful weightlessness and exercise forgiving of our various old injuries and arthritic joints! We baby boomers keep making those adjustments….
Our pool was on back order for several months, due to pandemic construction and delivery issues. Meanwhile, we decided that the only practical place to install it was in our under-utilized front yard. Thor enjoyed tearing out some of the Oregon Grape hedge that he detests for its thorns, opening up the yard next to our neighbor's driveway, and getting a 6-inch cement slab installed.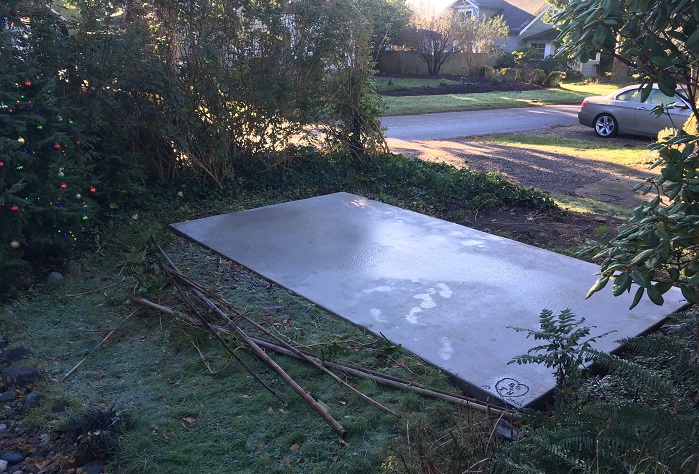 I was just about recovered enough to start careful swimming in the late fall when our pool finally arrived, involving 5 vehicles to install.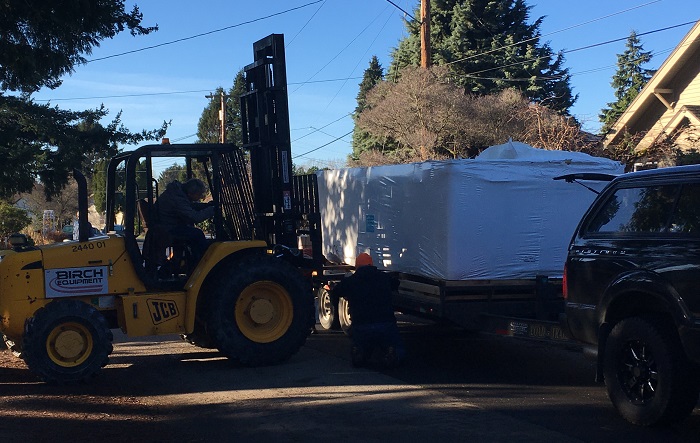 Because our Book View Cafe website server at this point may not handle many photos, I'm posting my complete blog entries on my own author website at www.sarastamey.com, where you can finish this episode and enjoy all the accompanying photos. Please continue reading by clicking on the link below, then you can return here (use "go back" arrow above) to comment, ask questions, or join a conversation. We love your responses!
https://sarastamey.com/the-rambling-writers-pandemic-pool/
*****
You will find The Rambling Writer's blog posts here every Saturday. Sara's latest novel from Book
View Café is available in print and ebook: The Ariadne Connection. It's a near-future thriller set in the Greek islands. "Technology triggers a deadly new plague. Can a healer find the cure?"  The novel has received the Chanticleer Global Thriller Grand Prize and the Cygnus Award for Speculative Fiction. Sara has recently returned from another research trip in Greece and is back at work on the sequel, The Ariadne Disconnect. Sign up for her quarterly email newsletter at www.sarastamey.com