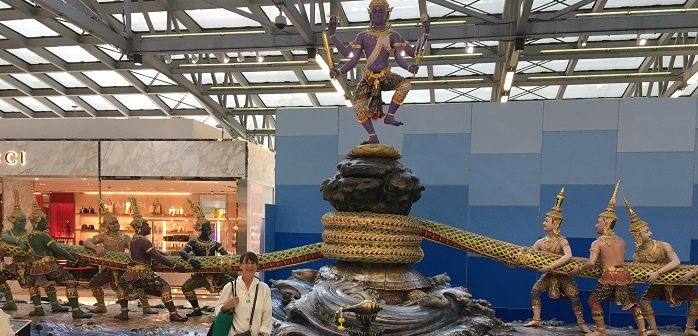 Bidding goodbye to beautiful Thailand, Thor and I flew into the coils of the year 2020 that most of us are eager to flush down the drain of history.
NOTE: "And now for something completely different." Thor and I made our first trip to Asia — the beautiful country of Thailand.  We were lucky to squeak through the pandemic flight closures in February of 2020 as we returned from our three-week trip. Since more travel has now become a distant prospect, we hope you'll take a virtual vacation with us in the following weeks. (This blog series started on June 13.)
During a year of nearly nonstop trials, I found comfort and welcome distraction in reliving my memories of a wonderful trip, and I hope you found the posts a pleasant "virtual vacation." I write now amidst the terrible news of mob violence instigated by a power-mad, corrupt U.S. president, and join the many fervently hoping his malignancy can be contained for a peaceful transition of power and recovery for our nation and world. As many others have been recounting their journey through the trials of 2020, I join those voices with the goal of helping purge our collective traumas. Usually I keep these blog posts light and entertaining, and I promise this one ends on a hopeful note!
As Thor and I were preparing to depart Thailand — a last glimpse of its beauty…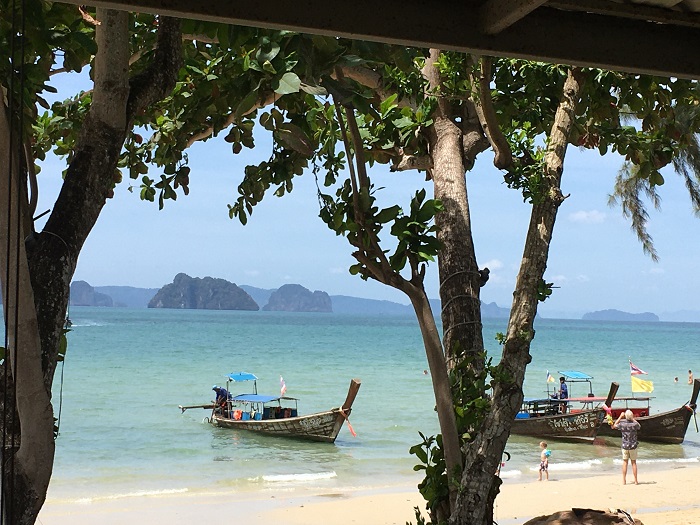 …we learned that the airline had changed schedules, and we had to make an overnight stop in Manila, Philippines. By this time, the early impact of Covid19 virus was becoming clear. Before a major source in Wuhan, China, was made public, we had been in many tightly-packed crowds of Chinese tourists, including crammed like sardines with them in a closed tour boat for hours (not recommended). Halfway through our trip, Thailand closed to flights from China, which started us wondering. We had no symptoms, luckily, and passed the temperature check at the Bangkok airport with flying colors.
Because our Book View Cafe website server at this point may not handle many photos, I'm posting my complete blog entries on my own author website at www.sarastamey.com, where you can finish this episode and enjoy all the accompanying photos. Please continue reading by clicking on the link below, then you can return here (use "go back" arrow above) to comment, ask questions, or join a conversation. We love your responses!
https://sarastamey.com/the-rambling-writer-visits-thailand-part-20-home-to-the-coils-of-covid-chaos-and-cancer/
*****
You will find The Rambling Writer's blog posts here every Saturday. Sara's latest novel from Book
View Café is available in print and ebook: The Ariadne Connection. It's a near-future thriller set in the Greek islands. "Technology triggers a deadly new plague. Can a healer find the cure?"  The novel has received the Chanticleer Global Thriller Grand Prize and the Cygnus Award for Speculative Fiction. Sara has recently returned from another research trip in Greece and is back at work on the sequel, The Ariadne Disconnect. Sign up for her quarterly email newsletter at www.sarastamey.com