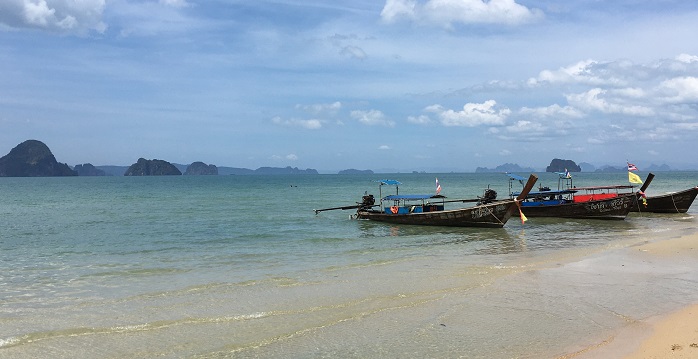 Join Thor and me for the last leg of your virtual Thailand vacation as we arrive at Phangnga Bay to see the famous karst sea stacks.
NOTE: "And now for something completely different." Thor and I made our first trip to Asia — the beautiful country of Thailand.  We were lucky to squeak through the pandemic flight closures in January/February of 2020 as we returned from our three-week trip. Since more travel has now become a distant prospect, we hope you'll take a virtual vacation with us in the following weeks. (This blog series started on June 13.)
It was hard to tear ourselves away from the wonderful snorkeling at Baan Kratig, but eager to see the sea stacks of Phangnga Bay, we boarded a ferry to Krabi and got our first glimpse: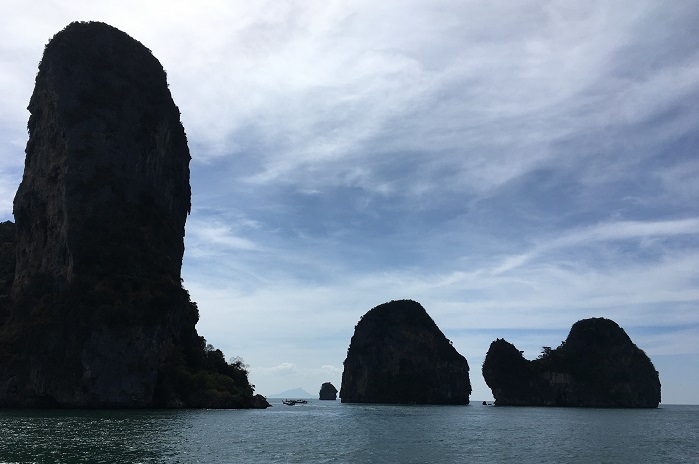 Like the karst formations we saw near Our Jungle House, these limestone outcrops are remnants of the once-mighty Tenasserim Mountains that still form a spine through Thailand to China. Only these ones are "drowned karstland" in shallow sea, and the stone is carved by water that erodes fissures and creates tunnels and chambers.
Because our Book View Cafe website server at this point may not handle many photos, I'm posting my complete blog entries on my own author website at www.sarastamey.com, where you can finish this episode and enjoy all the accompanying photos. Please continue reading by clicking on the link below, then you can return here (use "go back" arrow above) to comment, ask questions, or join a conversation. We love your responses!
https://sarastamey.com/the-rambling-writer-visits-thailand-part-18-phangnga-bay/
*****
You will find The Rambling Writer's blog posts here every Saturday. Sara's latest novel from Book
View Café is available in print and ebook: The Ariadne Connection. It's a near-future thriller set in the Greek islands. "Technology triggers a deadly new plague. Can a healer find the cure?"  The novel has received the Chanticleer Global Thriller Grand Prize and the Cygnus Award for Speculative Fiction. Sara has recently returned from another research trip in Greece and is back at work on the sequel, The Ariadne Disconnect. Sign up for her quarterly email newsletter at www.sarastamey.com